Carrot cake is not something I usually make, as I am a big chocolate person. However, I was asked for a carrot cake recipe a few times and decided to give it a try.  I started with my recipe from culinary school as a base and adapted it to be gluten free from there.  I have to tell you that I now LOVE carrot cake.  I had idea I would ever have so much affection for something other than chocolate :P
In making this cake, I urge you to use fresh carrots and finely grate them.  Don't use carrots that have been in the drawer for months or a bag of grated carrots…  I have tested this recipe on several groups of non gluten free people who could not tell it was different (gf) and thought it was pretty tasty.
This will be one of the many recipes I am posting for Easter.  This would be a delicious addition to any Easter celebration, not too mention festive to the particular holiday.  This recipe is easy to double for layered cakes or sheet cake.  Please enjoy my gluten free and grain free carrot cake recipe!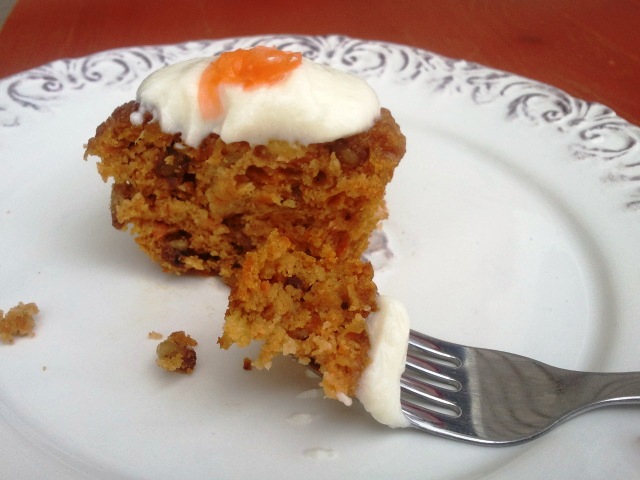 Gluten Free Carrot Cake
1/4 cup oil
1/2 cup honey
2 eggs
1 cup finely grated carrots
1/2 cup crushed pineapple (canned is fine)
1/2 cup almond flour, packed
1/4 cup coconut flour, packed
1/2 teaspoon cinnamon
1/2 teaspoon baking soda
1/4 teaspoon salt
1/2 cup chopped pecans
Preheat oven to 350.
Whisk together oil, honey and eggs.
Stir in carrots and pineapple.
Whisk in dry ingredients, making sure you get out all the clumps.
Stir in pecans.
Pour batter into greased baking dish.
Bake for 25-30 minutes.
Cool completely before icing.
Top with my creamy vanilla yogurt frosting or your favorite cream cheese frosting.
* Some notes on this recipe.  If you have an oven that tends to turn things dark quickly, lower temperature to 325.  This recipe is perfect for an 8×8 glash dish, pie plate or 12 cupcakes.  For a layered cake or 9×13, double the recipe :)
Related posts: