Baked Salmon Pouches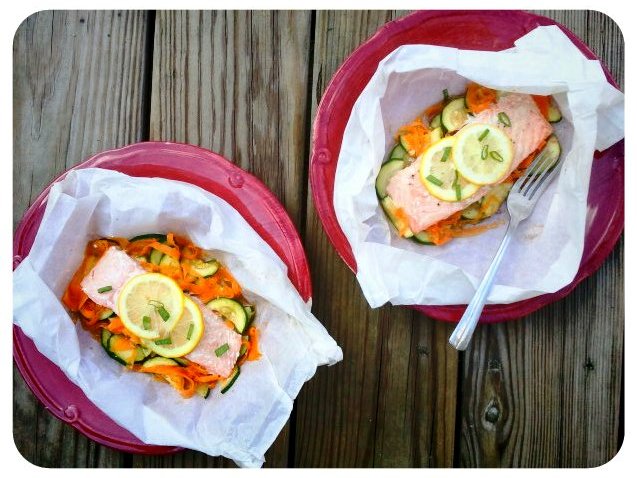 I'm not sure about you, but I love receiving things in little packages.  Serving salmon baked in parchment is like opening a special gift.  The aroma of fresh ginger and lemon will entice your senses when opened.  Another great thing about these pouches is that you can prepare them ahead of time, then pop them in the oven right before dinner.  Fish and thinly sliced vegetables cook up in no time for a quick, flavorful dinner.  Not to mention the ridiculously easy cleanup!  To me the meal is complete, but feel free to serve with steamed rice.
Baked Salmon Pouches
4 fillets of salmon (skinless)
2 zucchini, halved lengthwise and sliced (about 1/8″)
2 large carrots, peeled into ribbons with vegetable peeler
2 garlic cloves, minced
2 teaspoons freshly grated ginger
2 tablespoons olive oil
1 lemon, thinly sliced
1 scallion, chopped
sea salt and pepper
Preheat oven to 350.
Cut parchment into 15×13 rectangles.  Make four.
In a large bowl,  combine oil with garlic and ginger.
Add sliced zucchini and carrot ribbons, toss to coat.   Season with salt and pepper.
Divide vegetable mixture among the 4 parchment sheets.  Top each with a  salmon fillet, seasoned with salt and pepper.
Lay 2 lemon slices on each piece of salmon.  Close each pouch by rolling and crimping across the top first, then the sides.  Roll the sides up to ensure the pouch won't leak.
Bake pouches on a sheet tray for 12-15 minutes, depending on thickness of the fillet.  Keep in mind that they will continue to cook in the pouches once removed.
Serve warm, allowing each guest to open their own pouch.  Garnish with chopped scallions.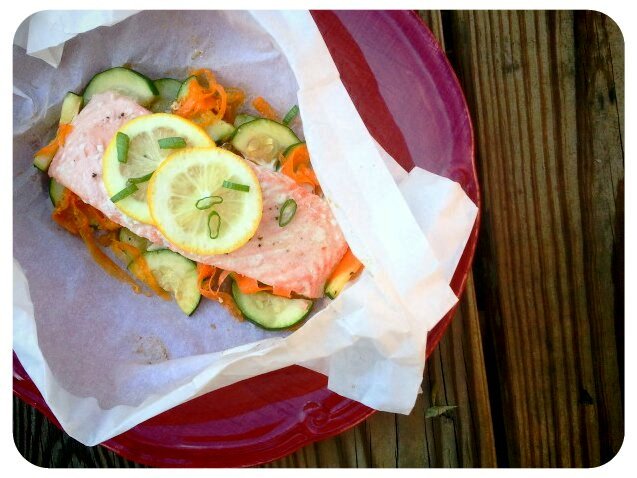 ---
---