Parmesan Crusted Chicken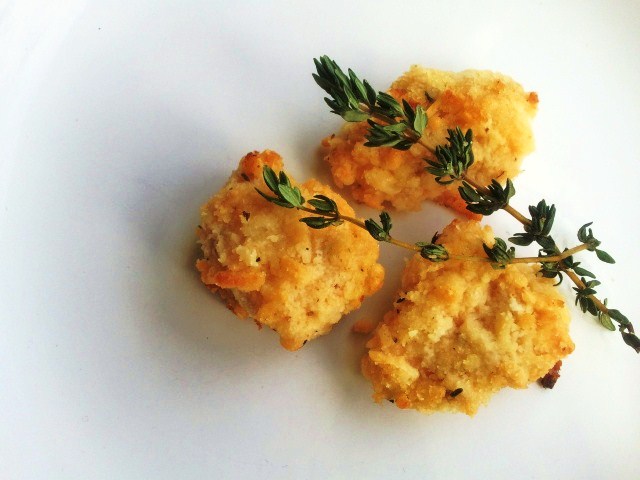 One of my favorite places to eat before going gluten free, was Chick-fil-a.  Uggh, I have to say it is very painful to watch my kids eat there… It is usually a special treat that my husband does with them.  I find that this chicken is even more tasty and flavorful.  Not to mention healthier because it is gluten free and baked!
(for my gluten eating friends you can use plain bread crumbs in place of almond flour if you don't have any)
Parmesan Crusted Chicken
2 lbs chicken breasts, cut into tenders or nuggets
2 eggs
1 cup packed almond flour/meal
1 cup shredded parmesan cheese
1 teaspoon salt
1 teaspoon garlic powder
1/4 teaspoon pepper
1/2 teaspoon thyme
Preheat oven to 450.
Whisk eggs, season with salt and pepper.
Combine almond flour, Parmesan, salt, pepper, garlic and thyme.
Coat chicken in egg mixture.
Dredge chicken in flour mixture.
Place chicken on a greased or lined baking sheet.
Bake for 15-20 until cooked through.
Serve while warm.
*I like to spray the chicken with a little bit of olive oil/cooking spray right before cooking to help give it that golden color.
Meal ideas:  this chicken is delicious on it's own with some roasted veggies, great sliced on top of a Caesar salad, or served along side spaghetti squash and marinara sauce.
---
---