Stuffed Bell Peppers
Bell peppers are a great way to add color and beneficial nutrients to your diet.  High in vitamin C and beta-carotene, bell peppers make the perfect vessel for a complete dinner.  This is a new take on an old traditional dish.  I have replaced your typical rice with heart healthy lentils.  This gluten and grain free version is packed with flavor and can be made ahead of time- perfect for a busy mom like me.
If lentils aren't your thing, I suggest giving them a try in this recipe. Beans are much more nutritious than rice. My husband must of had a bad lentil experience growing up and wanted nothing to do with them, but he enjoyed these stuffed peppers quite a bit.  If you really dislike them, use rice in place of the lentils if you must…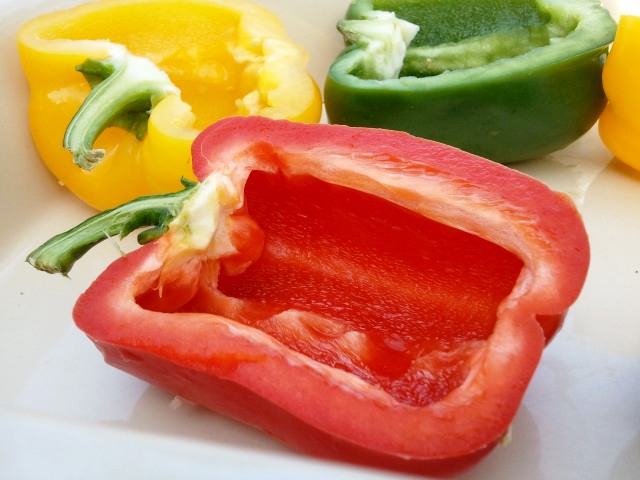 Stuffed Bell Peppers
4 bell peppers, I like to use a variety of colors
1 lb ground turkey/beef
1 small onion, chopped
3 cloves garlic, minced
1 cup cooked lentils
1 cup marinara sauce (already prepared)
1 cup shredded parmesan cheese
salt and pepper
1 teaspoon thyme 
1/2 teaspoon rosemary
muenster or cheddar cheese (or any nice melting cheese)
Preheat oven to 400.
First you need to prepare your bell peppers.  Split them down the center, remove seeds and white membrane.  I like to leave the stem intact.  (see above picture)
Combine all ingredients, except muenster cheese. 
Stuff peppers, making sure to get it down in the crevices and pack it down.  You can mound it a bit on the top.  *At this point you can place in a casserole dish, cover and refrigerate until you are ready to cook.
Bake for 40 minutes, covered.
Remove cover, top each pepper with cheese and bake uncovered for another 20 minutes.
Serve with extra maranara sauce.
*yields 8 halves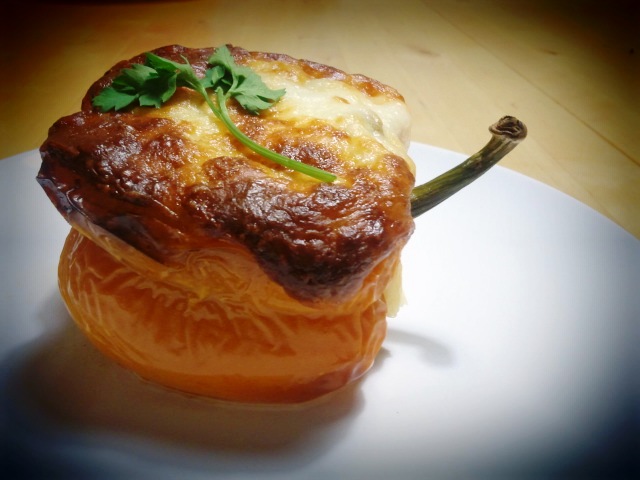 ---
---