Simple Roasted Figs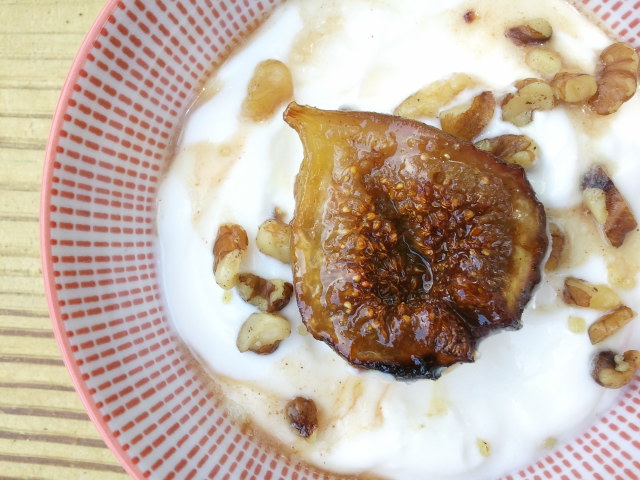 This simple recipe makes a delightful breakfast treat or even qualifies as a dessert in this household.  Figs are in season right now, so take full advantage of their availability and freshness.  Not only are they sweet and delicious, they are also a rich source of dietary fiber, potassium and calcium.  I used Organic Brown Turkey Figs, but any fresh figs you find would work.  They do not have a long shelf life, so only buy them a day or 2 before you plan to eat them.
Simple Roasted Figs
8 oz fresh figs  (6-8)
2 tablespoons coconut oil  (or butter)
2 tablespoons honey
1/4 teaspoon cinnamon
plain yogurt
toasted walnuts
Preheat oven to 400.
Cut figs in half, place in baking dish.
Melt together the coconut oil and honey.  Stir in cinnamon.
Pour glaze over figs and coat them. Place figs cut side down.
Bake at 400 for 15 minutes, remove from oven.
Turn broiler on high.  Flip figs over, cut side up.
Broil for 5 minutes, until nice and golden.
Serve figs warm over plain yogurt, drizzled with the honey glaze and topped with walnuts.
---
---