Creamy Cauliflower "Risotto"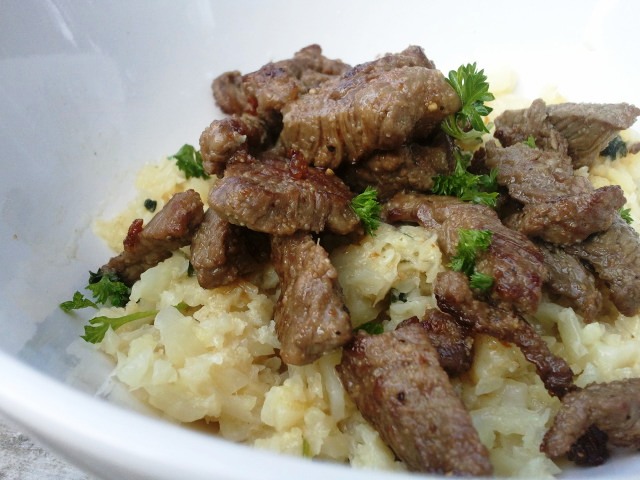 This is my basic Cauliflower "Risotto" Recipe, that has become a family favorite.  My children actually prefer this "risotto" over rice.  Shhh…. don't tell my Filipino side of the family!  It's rich, flavorful and a wonderful source of Vitamin C and Manganese, two powerful antioxidants.  It's a versatile low carb dish that can be customized to go along with whatever else you may be cooking up for dinner, whether it be roasted chicken or stir fried beef.
Creamy Cauliflower "Risotto"
1 head of cauliflower, cut into florets
3 tablespoons olive oil
1 large onion, finely chopped
4 cloves garlic, minced
1/3 cup white wine
1 cup chicken stock
4 tablespoons butter
1/2 cup freshly grated parmesan cheese
1/4 cup greek yogurt
sea salt
freshly ground black pepper
parsley
Pulse cauliflower florets in a food processor until it reaches the texture of a grain of rice.  (do it in batches for best results).
Heat a large saucepan (that has a fitted lid).
Add olive oil and saute the onions and garlic until soft and fragrant.
Pour in the white wine, cook for 1 minute.
Add cauliflower "rice" and stock.  Cover with lid and cook on low-med for about 10 minutes.
Remove lid, add butter continue to cook for another 5 minutes allowing some of the liquid to cook out.  Stirring occasionally.
Once the "rice" mixture has thickened, stir in the parmesan cheese.
Remove from heat.
Add the greek yogurt and season to taste with sea salt and pepper.
Garnish with freshly chopped parsley and extra parmesan cheese.  Serve warm.
Ideas for add- ins:
sauteed mushrooms, baby spinach and toasted pine nuts
roasted bell peppers, zucchini and feta cheese
roasted butternut squash and sage
---
---