Pork Roast with Sweet Potatoes, Apples and Onions
This impressive meal is a one pan wonder… my favorite way to prepare a meal. Did I mention it is ready to eat in 1 hour! Fresh fall ingredients make this seasonal and delicious. I like to serve this dish with a light green salad of spinach and argula with a bright lemon dressing to balance the hearty flavors of the roasted meal. There is no need to make a separate sauce, as the roasting juices are plentiful and easily flavor the sliced pork.
If you do not eat sweet potatoes, feel free to sub with butternut or acorn squash. We have been receiving quite a few sweet potatoes from our local CSA, even though I technically should not be eating potatoes (following SCD), I have successfully added them back to my diet, in small amounts with no digestive issues :)
Pork Roast with Sweet Potatoes, Apples and Onions
2 1/2 pound pork roast (I tied mine, to better hold it's shape) instructions here <-
olive oil, salt and pepper
2-4 apples, quartered (I used small gala, so I used 4 apples but if you use a larger apple like pink lady or granny smith, I would only use 2)
2 sweet potatoes, cut into wedges
1 sweet onion, sliced
1/2 teaspoon sweet paprika
1/4 teaspoon cumin
1/4 teaspoon chili powder
salt and pepper to taste
olive oil ( about 1/4 cup) enough to coat
Preheat broiler to 500.
Rub pork with olive oil and season with salt and pepper.
Place on sheet tray and broil for 15 minutes, flipping half way through cooking time (to get nice color on meat).
Meanwhile, chop apples, sweet potatoes and onions. Toss in oil and spices.
Arrange on sheet tray around pork roast.
Turn oven to down 450, and roast for 20-30 minutes,until apples and sweet potatoes are tender and meat reaches 120 degrees. This is a preference, most might say to cook to 140, but that is how you get dry pork. Allow the meat to rest at least 10 minutes before slicing and it will continue to cook and will be juicy! Return sliced pork and juices to the pan.
Serve sliced pork with sweet potatoes, apples, onions and a simple salad.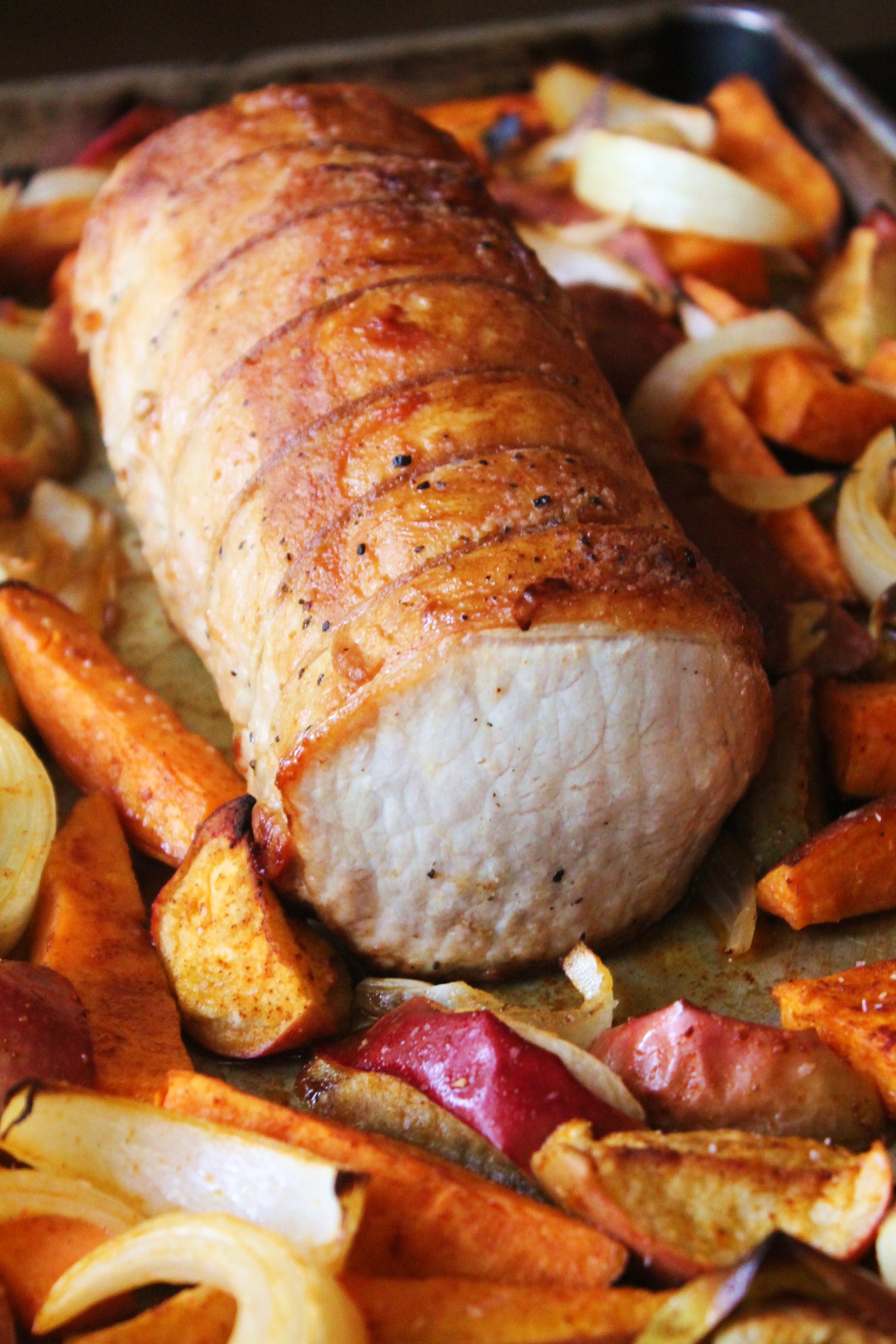 I would have taken a picture with the pork sliced, however it was eaten too quickly for that to happen! My husband and kids loved this dish and your family will too!!
---
---