Creamed Mushrooms with Kale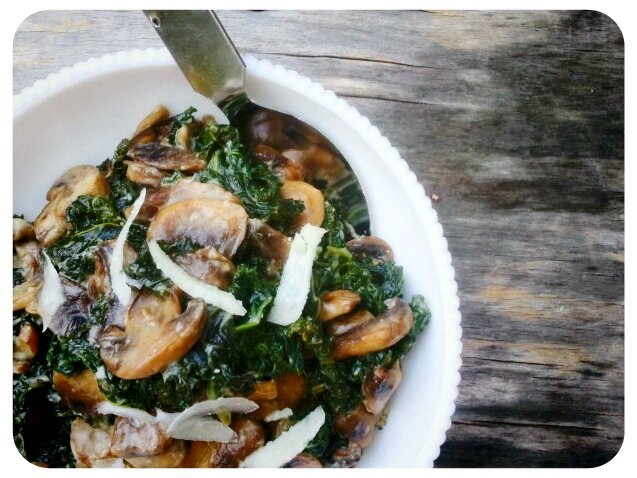 I'm still loving kale and having fun figuring out different ways to incorporate it into my meals.  This dresses it up quite a bit and tastes flavorful and rich.  It's a hearty side dish, that pairs well with most protein.
Creamed Mushrooms with Kale
1 lb mushrooms, sliced
1 lb kale, washed and chopped
1/4 cup olive oil/butter
3 cloves garlic, minced
1/4 cup broth
2 tablespoons red wine vinegar
1/2 teaspoon salt
1/4 teaspoon pepper
1/2 cup cashew cream or heavy cream
1/4 cup freshly grated parmesan cheese (opt)
Heat a large saucepan with the olive oil or butter.  (I  like to use a little bit of both)
Add your mushrooms and garlic. Saute for about 2-3 minutes.
Mix in your chopped kale.  Season with salt and pepper.
Add broth.  Saute until tender, about 5-7 minutes.
Stir in vinegar.  Remove from heat.
Add the cream and parmesan cheese.
Serve warm.  Top with extra parmesan cheese.
---
---