Cinnamon Apple Cake
We looooove apples in this household.  Consuming about 8-10 each day!  We have a tradition of going apple picking, with hayrides and hot apple cider every year, unfortunately with the timing of my pregnancy and Fiona's birth, I just didn't have the energy to do it.  My kids were understanding and we will continue with the tradition next fall.  In the meantime, local farmstand apples have been treating us well. Nice, crisp galas, pink ladies and macintosh are among my favorites.  What is your favorite apple?  I'd love to know.  Maybe it's one I have yet to try, as I usually stick to what I know.  Boring, eh?
Here is a little secret when it comes to baking with apples:  choose large apples.  Here is why.  The larger the apple, the less apples you have to peel and core to get the amount needed in your recipes.  You will  notice that I give you a measured cup amount of peeled, diced apples, for this very reason.  All apples are different sizes and this gives you more accuracy-  which is essential for baking!
This cake makes a wonderful breakfast treat, and can easily be dressed up for dessert with some coconut caramel sauce and whipped cream.  Or you can scoop them into muffin tins for a quick breakfast on-the-go!
Cinnamon Apple Cake
1/2 cup melted butter or coconut oil
1/2 cup honey
4 eggs
1/2 cup almond flour, firmly packed
3 tablespoons coconut flour, firmly packed
1 teaspoon cinnamon
1/2 teaspoon baking soda
1/2 teaspoon kosher salt
1/2 cup chopped pecans/walnuts
2 cups diced apples (about 2 apples, peeled cored and diced)
whole pecans for decoration (optional)
Preheat oven to 325.
Whisk together wet ingredients.  Add flours, baking soda and salt, whisk until smooth.
Stir in nuts and apples.  Pour into greased 9 inch pie plate or springform pan.
Bake for 40-50 minutes, until golden brown and toothpick comes out clean.  If it looks like it is getting too dark, turn oven down to 300.
Allow cake to cool slightly before cutting.  Serve warm or at room temperature.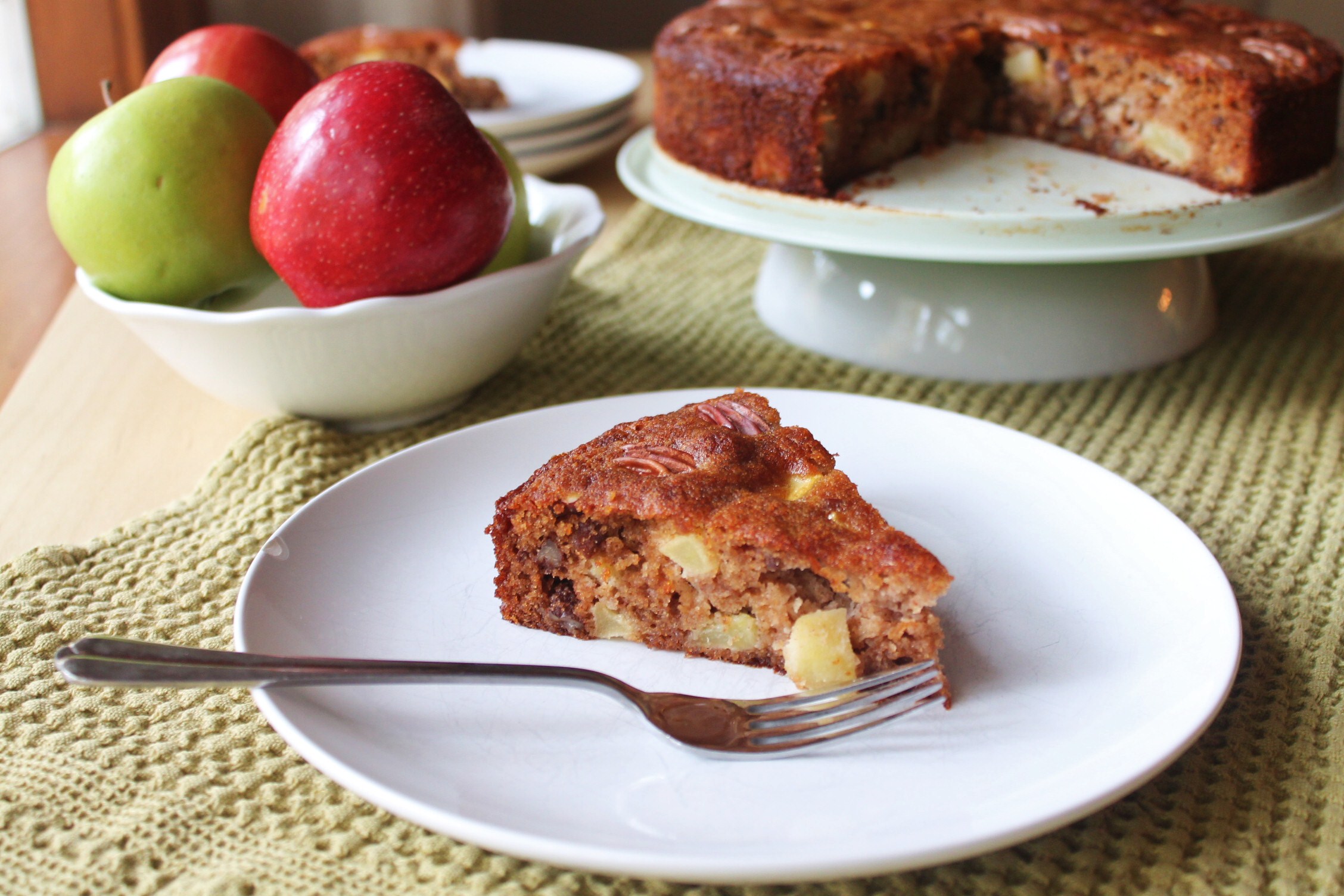 I'm starting to compile a few recipes for Thanksgiving. I will also be sharing my tricks for the perfect turkey.  Do you host Thanksgiving?  What are you in charge of making?  Hosting comes with it's challenges, but with the right preparations (and help from family) it can be done!
Here are a few of my Thanksgiving recipes I shared last year to get us started:
Are you on Pinterest?  Don't forget to pin recipes that you are going to try! ……………………………………………………………………………………………………………………….
It's a great tool for organizing and keeping track of different recipes for the holidays.  There is a Pin-it button located at the bottom of each post and a Facebook share button at the very top of each post.  Feel free to share recipes you find with your friends, because you never know who might be looking for gluten free options!  You can also follow my gluten free board on Pinterest or become a fan on Facebook.
Many blessings!
~Michelle
---
---