Sweet N' Sour Meatballs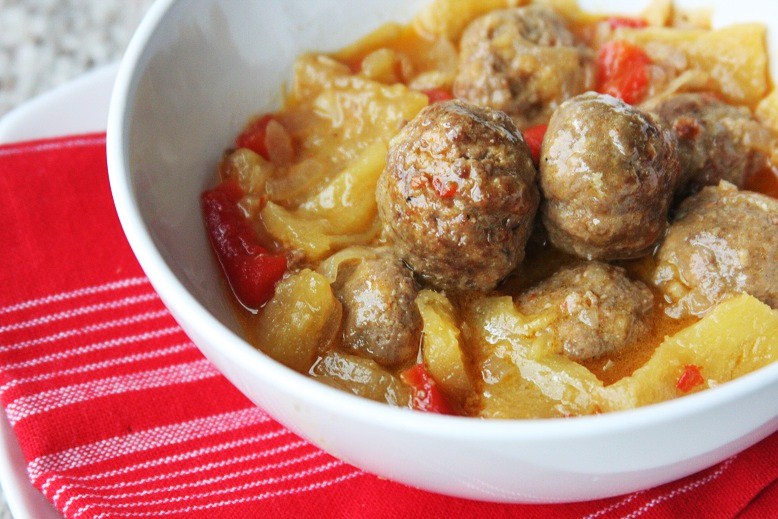 These meatballs make the perfect appetizer or a fulfilling meal, served over steamed rice or "cauliflower" rice.  My version of sweet and sour meatballs uses fresh pineapple… I try to stay away from anything in a can these days.  I also added red chili flakes for a special kick, however you can easily adjust the amount to reach the level of heat desired.
This dish is also wonderful  served as an appetizer at a party.  Just prepare it through step 4, then place all ingredients in the crockpot and let simmer on low all day!  Or make it a few days before and reheat in your crockpot.
Sweet N' Sour Meatballs
2 lbs ground beef
2 eggs
1/2 cup almond flour, packed
1 teaspoon garlic powder
1 teaspoon ginger
1 teaspoon cumin
1 teaspoon paprika
1/2 teaspoon chili powder
2 teaspoons kosher salt
Sauce
1 large onion, chopped
2 red bell peppers, chopped
5 cloves of garlic, chopped
1 tablespoon ginger, freshly grated
1 medium pineapple, peeled, cored and chopped
1/4 cup apple cider vinegar
2 cups water
1/2 teaspoon red chili flakes
1 tablespoon honey (opt)
2 teaspoons coconut flour, packed (opt)
salt to taste
Preheat oven to 400.
Prepare meatballs:  Whisk together eggs, spices and almond flour.  Add ground beef and combine using your hands.  Shape into 60 small meatballs.  Place on a sheet tray and bake for 15-20 minutes until nicely browned.
While meatballs are cooking, start your sauce:  In a large dutch oven or pot saute the onion and bell pepper in 2 tablespoons oil until tender.  Add garlic and ginger, cook until fragrant, about one minute.
Stir in chopped pineapple.  De-glaze pan with the apple cider vinegar.  Add water and red chili flakes.  Bring to a boil.
Add browned meatballs and simmer on low for 1-3 hours.  The longer you cook it the better.  The pineapple will cook down and create a lovely sauce.
It makes more of a soup than a "sauce", however you can make it slightly thicker using a bit of coconut flour.  At the end of cooking, take 1/2 cup of the soup in a small bowl and whisk in 2 teaspoons packed coconut flour.  It will become a thick paste aka, "slurry".  Then pour the slurry back into the pot and gently stir in. After a minute or two you will see it start to thicken.
*Also, depending on the ripeness of your pineapple, you may find that you will need a little bit of sweetener.  I suggest waiting to the very end, doing a taste test, then adding the honey only if needed.
---
---