Happy 1st Birthday!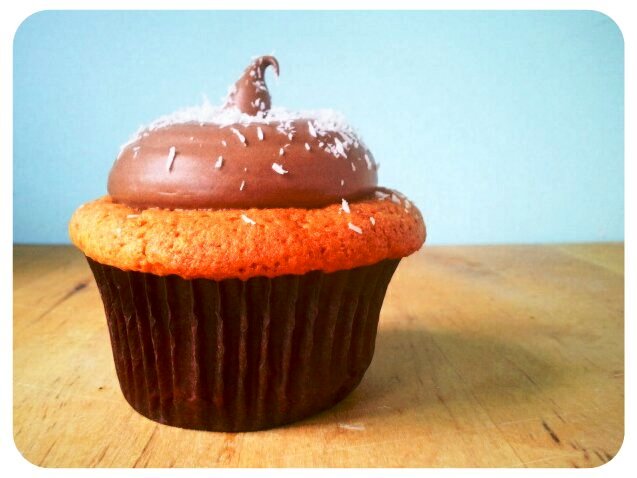 Today marks the first birthday of my blog.  I can't believe it's been a whole year.  I'm still not quite sure what I am doing, but I'm having fun so I guess that's all that matters :P  I figured why not celebrate with a fantastic cake recipe.  This recipe has a few more steps to it than most, but the end result is a light and airy yellow cake.  Most gluten free cakes with nut flour can feel heavy and dense, so I was very surprised with just how delicate this cake turned out.  It reminds me a little bit more of the yellow birthday cakes I grew up eating in my childhood.  Top it was some homemade chocolate buttercream and you're set!
I also wanted to take the time to say thanks for those who follow my blog and I really appreciate the feedback and comments.  I hope everyone has a blessed day!
Fluffy Yellow Cake
6 eggs, separated and at room temperature
1/2 cup butter, room temperature
3/4 cup honey
1 tablespoon vanilla extract
3/4 cup almond flour, packed
1/3 cup coconut flour, packed
1/2 teaspoon baking soda
1/2 teaspoon salt
Preheat your oven to 325.
Beat your eggwhites to stiff peak and set aside.
Cream together your butter and honey, until light and fluffy (about 2 minutes using the paddle attachment).
Add your room temperature egg yolks to the butter mixture, one at a time.  Scraping down the sides often with a spatula.
In a separate bowl, whisk together all of your dry ingredients.
Add your dry ingredients to the creamed butter mixture.  Beat for 1 minute.
Stir in vanilla.
Fold in your eggwhites, in thirds to slowly lighten the mixture.  Do NOT beat it in, gently fold in your eggwhites with a spatula.
Scoop into lined cupcake tins and bake for 20-22 minutes, until they test clean with a toothpick.
Remove from oven and allow to cool completely before frosting.
*recipe yields 14-15 cupcakes, 2 8inch round pans, or 9×13 baking dish.
---
---