Almond Flour Chocolate Chip Cookies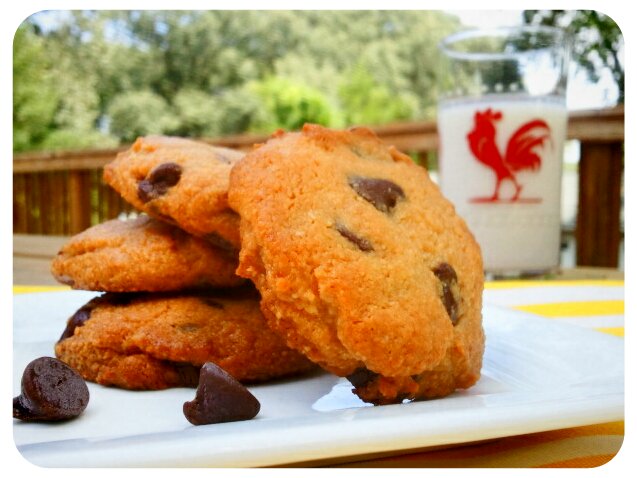 I already have a few chocolate chip cookie recipes, however it's nice to have one just using almond flour.  Great for those who can't do coconut flour, or simply if you run out of it.  Nothing should stand in your way from making chocolate chip cookies when you need them.  These are moist, crispy on the outside, but chewy centers.  I love them, and so will you!  Be sure to firmly pack your almond flour when measuring or else they will spread like pancakes.  They taste delicious with either butter or coconut oil.  That too is a personal preference.  Just use whatever you have on hand!
Almond Flour Chocolate Chip Cookies
1/2 cup melted butter or coconut oil
1/2 cup honey
1 3/4 cups almond flour, firmly packed
1/2 teaspoon sea salt
1 cup chocolate chips
Preheat your oven to 325.
Stir together all ingredients, except chocolate.
Fold in the chocolate chips (be sure to wait until the mixture is cooled down… not warm from the melted butter).
Scoop onto silpat/parchment lined baking sheets.  And flatten the dough.  These should not move or spread much during baking.
Bake for 18-22 minutes, until golden brown.  Remove from baking sheet onto cooling racks.
*you may notice there is no baking soda, that is not an error.
*recipe yields 24-28 cookies
---
---