Homemade Strawberry Sauce
So there has been a recent debate in my home with my husband about what kind of syrup to give our kids.  He doesn't really like to share his special maple syrup that his father brings him from Canada.  And of course I refuse to give them whatever that stuff is in the bottle shaped like you know who,  just look at these ingredients… INGREDIENTS: CORN SYRUP, HIGH FRUCTOSE CORN SYRUP, WATER, CELLULOSE GUM, CARAMEL COLOR, SALT, SODIUM BENZOATE AND SORBIC ACID (PRESERVATIVES), ARTIFICIAL AND NATURAL FLAVORS, SODIUM HEXAMETAPHOSPHATE.   Yeah, my thoughts exactly.   So in an effort to not use all of my husband's maple syrup stash (which is the best maple syrup EVER), I have decided to stretch a small amount to produce a delightful and healthier syrup for my kids.  I call this a strawberry sauce, because it is not thin and runny like a syrup.  It has a chunkier more organic texture.  For a smoother sauce you could go the extra step by pureeing and straining.  But I don't find that necessary for the purpose of topping pancakes, waffles, biscuits or icecream sundaes.
Obviously when strawberries are in season I prefer to use fresh sweet strawberries.  But in the winter time or when you don't have any strawberries on hand, frozen berries work great!
Strawberry Sauce
1 12 oz bag of frozen strawberries
1 cup of water
1/4- 1/2 cup maple syrup or honey
In a heavy bottom saucepan combine the strawberries and water over medium high heat.  Bring to a boil, and cook, stirring frequently for about 10 minutes.  The strawberries will begin to break down on their own.
Add maple syrup or honey, cook for another 2 minutes.  I found it only necessary to use 1/4 cup of sweetener, but add more if needed. 
*keeps in the fridge for up to 1 week.  I store mine in old glass babyfood jars.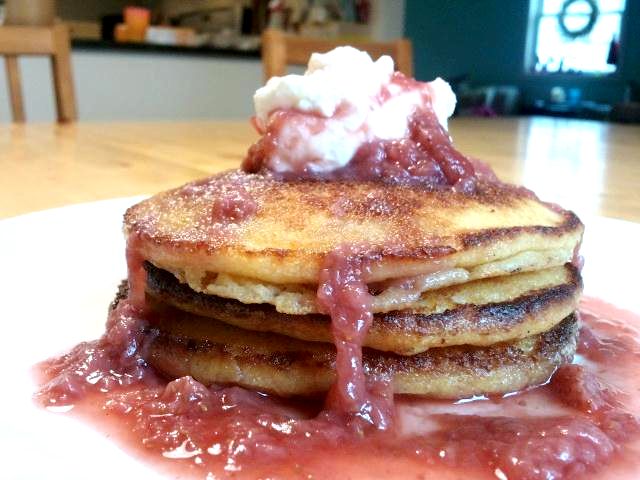 And just so you know, I don't make pancakes EVERY day, (who has the time!) but today is my son Andrew's 3rd Birthday.  We were all kind of happy that the ice storm hit us and all the kids got to stay home from school today with Andrew.  Don't worry, I will be posting my GF pancake recipe tomorrow!  Have a wonderful day!!
---
---