Gluten Free Seared Salmon and Asparagus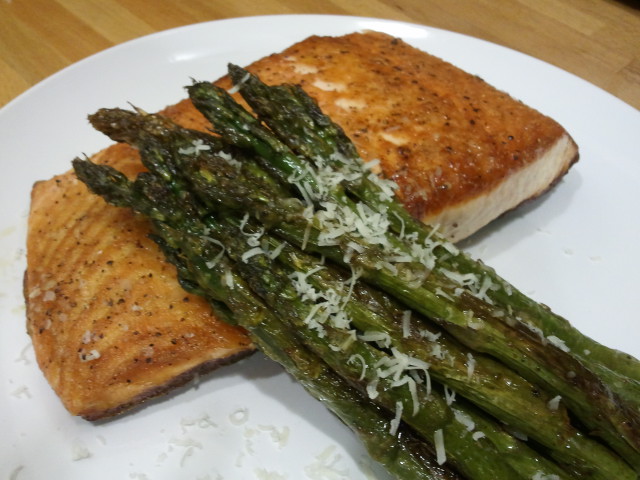 I love fish. Particularly a well cooked, crispy skinned salmon.  Here are a few tricks to easy and delicious fish.  These methods can be applied to any fish with skin on.
Gluten Free Seared Salmon
heat pan, make sure it is piping hot!
add a little olive oil
season fish on both sides, I like to keep it simple – salt and pepper
sear skin side down first, about 5 minutes, until dark and crisp
flip and cook for about 3-5 minutes, depending on thickness of fish
DO NOT OVERCOOK FISH, you can always cook longer, but you can't repair dry fish.
squeeze with a little fresh lemon juice
devour fish!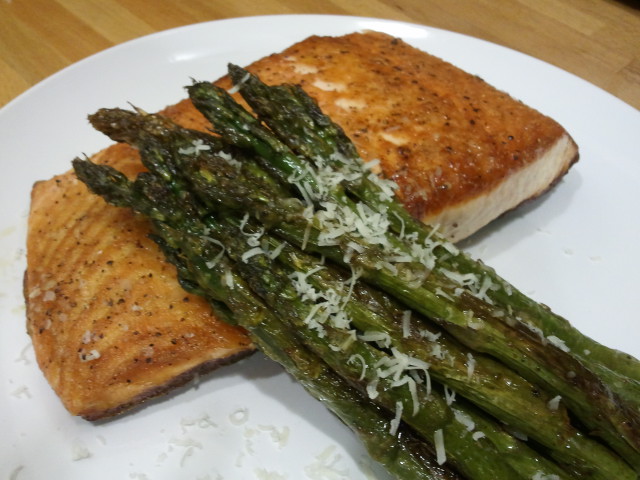 Gluten Free  Roasted Asparagus
Preheat oven to 500
prepare asparagus, trim bottoms
toss in a little olive oil, salt and pepper
roast for 15-20 minutes, they will take on a beautiful color and be slightly crispy
I like to top mine with freshly grated parmesan cheese
be kind and share, I know it's tough for me too…
---
---