Gluten Free Roasted Butternut Squash (with a kick!)
Does anyone else love butternut squash as much as I do?  There are a so many ways to cook and enjoy this wonderful fall fruit!  Yeah that's right people, it's a fruit!  Don't worry, I spent years thinking I was eating a vegetable too…..  In this recipe the suttle hints of cumin and paprika create a smoky depth of flavor.  By roasting at a high temperature, they get crisp on the outside and nice and tender on the inside. These will make a nice addition to my Thanksgiving menu this year!
So here is my version of GF Roasted Butternut Squash.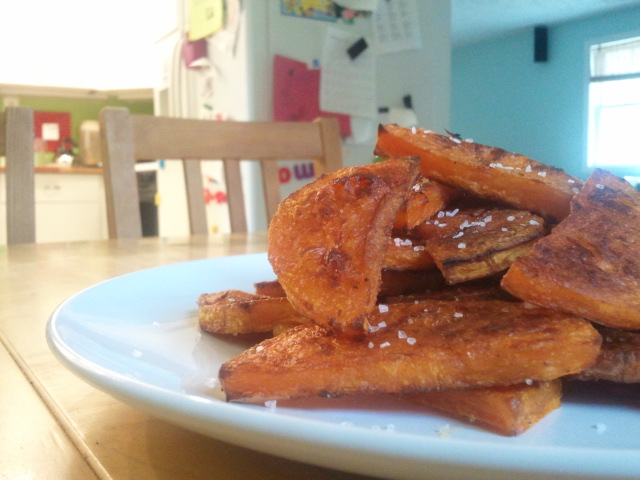 1 Large Butternut Squash – find one with a long neck
Olive oil, enough to generously coat
Salt and Pepper
Cumin    – you don't need alot of this spice for it come thru…
Garlic     – I think the more the merrier!
Paprika  – not too much, unless you like more heat
*As for the spices there is no exact measurement for this type of thing. Bare with me…
Preheat oven to 450.
Cut squash into 1/2 in slices.
Toss in olive oil.
Season with salt and pepper.
Spread on sheet tray, making sure each piece lay flat.
Sprinkle on a bit of each spice, but not too much,  you do not want to overwhelm the delicate squash flavor.
Roast for about 25-30 minutes, turning over halfway thru baking.
Sprinkle with sea salt after baking and serve!
* the same cooking method could be used to create a sweeter version –  sprinkle with cinnamon and drizzle with honey.
---
---