Roasted Cauliflower Steaks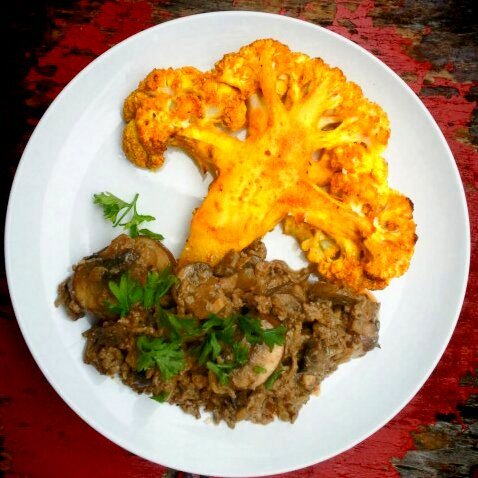 They sometimes call the cauliflower the "tree of life" because of it's bountiful health benefits. Pair it with turmeric and you have got a double whammy!  I love the beauty of the cauliflower "tree".  You can get between 2-3 steaks out of each head of cauliflower. I usually cut 2 thick steaks out of the center so they are nice and sturdy, and easy for handling.  This recipe also works well for the grill.
I throw the remainder of the cauliflower into the food processor and pulse it to make cauliflower rice for another meal later in the week.  This is a nice alternative to meat if you are preparing a meal for a vegetarian or do "meatless mondays" with your family.
Roasted Cauliflower Steaks
2 thick cut cauliflower steaks

2 tablespoons olive oil
1/2 teaspoon turmeric
1/2 teaspoon garlic powder
1/2 teaspoon salt
1/2 teaspoon ginger
1/4 teaspoon paprika
freshly cracked black pepper
Preheat oven to 400.
In a small bowl, whisk together olive oil with the spices.
Gently brush spice mixture on the cauliflower steaks, completely coating each one.
Place on sheet tray and roast for 25-30 minutes, until golden brown and cooked thru.
Serve warm.
---
---