Gluten Free Pumpkin Leek Soup
I can't get enough of pumpkins, squash and all the fun fall flavors.  Soup is a cozy and warming dish, perfect for fall.  We don't eat soup a lot in our house, it's not exactly kid "friendly", but they thought this one was pretty good…. You may be wondering why pumpkin leek….
While grocery shopping I randomly picked up leeks.  I'm not a big menu planner. I usually go to the farmer's market or grocery store and pick up items that look fresh or are on sale.  I got home and thought about potato leek soup, but now I am unable to eat potatoes in my diet. I happened to look on my counter and saw 2 pumpkins that needed to be cooked.  And then, the combination of pumpkin and leek was born!  I served this with roasted coconut shrimp, but any crispy bread would also make a great accompaniment!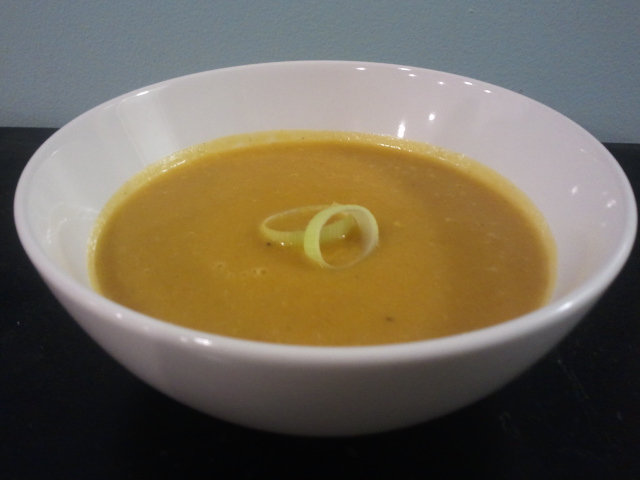 Gluten Free Pumpkin Leek Soup
1 tablespoon butter
1 tablespoon olive oil
2 leeks, chopped
1 celery rib, chopped
2 cloves garlic, smashed
2 cups chicken stock
1 15oz can pumpkin or 1 3/4 cup fresh pumpkin
1 tablespoon tomato paste
1 bay leaf
1/2 cup plain yogurt
salt and pepper
Saute leeks, celery and garlic in butter and olive oil until softened.
Add stock, pumpkin, tomato paste, and bay leaf.
Simmer for 30 minutes.
Remove bay leaf.
Add yogurt, and puree with immersion blender or in food processor (in batches).
Season with salt and pepper, and add up to 1/2 cup more chicken stock to reach consistency desired.
*yields 5 cups of soup – about 4 servings.
---
---