Black Bean Chili
There is nothing easier to serve on gameday than Chili.  Start it in the morning, let it stew all day and you are ready for a party without the fuss!  Everyone can easily dress their chili with fixins of their choice ~ This recipe is a crowd pleaser.  I love serving dishes that are naturally gluten free, everyone is happy.
Please don't be intimidated by the longest ingredient list ever.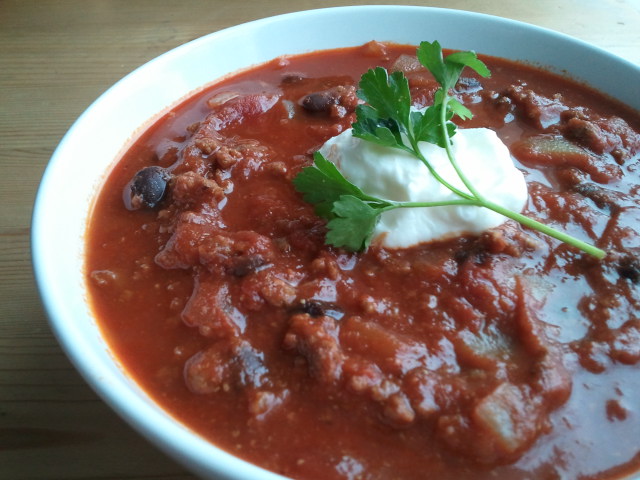 Black Bean Chili
2 lbs ground beef or turkey
2 onions, diced
1 red bell pepper, chopped
4 cloves of garlic, chopped
1 6oz can of tomato paste
1 1/2 tablespoons cumin
1 tablespoon paprika
2 bay leaves
1 teaspoon tumeric
1 teaspoon chili powder
1 teaspoon cayenne  (omit if you don't like spicy chili)
salt and pepper to taste
1 28oz can chopped tomatoes
1 28oz can crushed tomatoes
3 cups cooked black beans or 2 15oz cans
1-2 cups beef broth or water
dash of sweetener (optional)
Heat a large heavy bottom pot, add ground beef.
After beef starts to brown, add onions, pepper, and garlic.
Stir in tomato paste and spices.  Combine well.
Add 1 cup of the water/broth, scraping up any bits from the pan.
Add all the tomatoes and beans.  Bring to a boil.  Turn down heat and simmer for at least one hour.  (see note below)
*Ok, here is where it gets to be a personal preference thing.  If you like a thicker chili, simmer with the lid off.  For a thinner chili, keep the lid on, add up to 1 cup more water/broth to reach desired consistency.  The longer you cook, the better the flavors will develop.  Next day chili is actually the most flavorful, so it's a great thing to make the day before, then warm in the crockpot for your guests.  I always add a touch of sweetener to balance the flavors and don't forget to season well with salt!  It heightens the flavors- trust me.
Serve with a bar of fixins~ chopped onions, tortilla chips, cornbread, sour cream, shredded cheeses, diced avocado, or whatever your little heart desires :)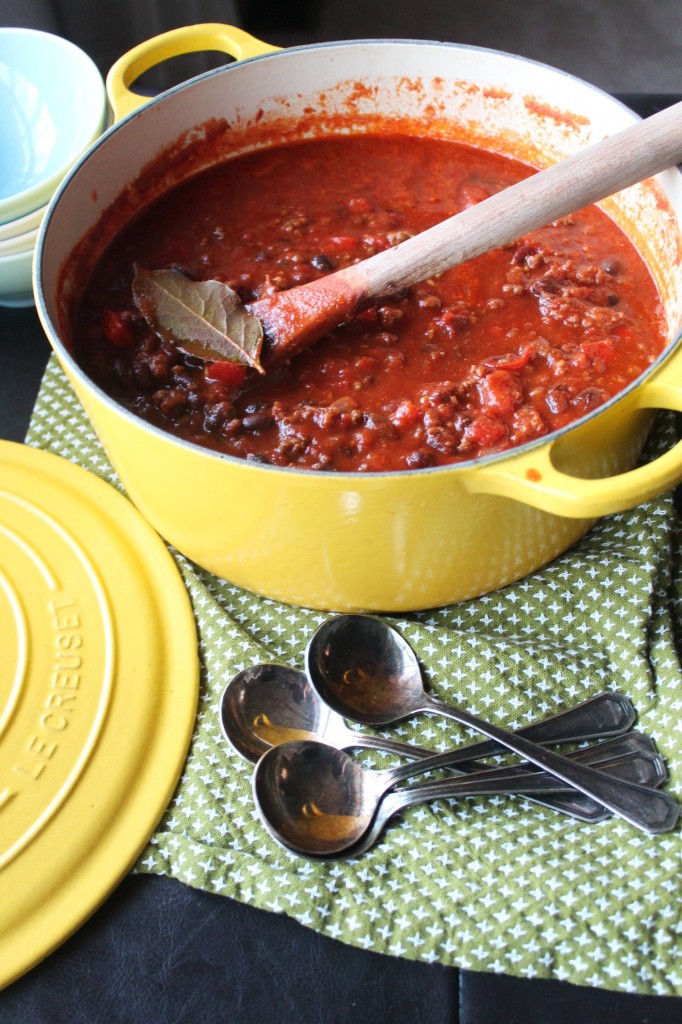 ---
---