Braised Short Ribs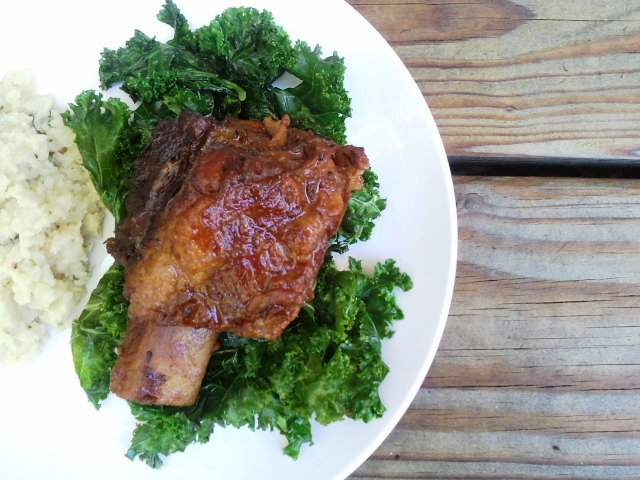 As I have shared before, braising is one of my favorite ways to prepare meat.  It becomes succulent and tender, making the meat just fall off the bone.  Short ribs are fairly inexpensive and are a wonderful meat to braise because you get all of the wonderful flavor from the bones.  The vegetables cook down and create a thick and flavorful sauce. This is my simplified, home-style version that my husband adores.  It's definitely more of a special kind of meal, as it takes hours to cook.  But it is so worth it.  You will see.
Braised Short Ribs
olive oil

4 lbs beef short ribs, bone in

1 large onion, chopped
2 ribs of celery, thinly sliced
2 large carrots, thinly sliced
6 cloves of garlic, chopped
3 tablespoons tomato paste
1 1/2 cups red wine (something good that you actually drink)
1 cup chicken stock (or water)
2 sprigs of fresh thyme
2 bay leaves
salt and pepper (to taste)
Preheat oven to 325.
In a large dutch oven, brown all sides of the short ribs (seasoned well with salt and pepper)  in a little bit of olive oil.  Remove short ribs from pan, drain off most of the fat out of the pan.
Add the onions, celery, carrots and garlic.  Cook until they start to brown, about 3 minutes.
Stir in the tomato paste.
De-glaze the pan with red wine.
Add chicken stock, thyme and bay leaves.
Return short ribs to the pan, cover with the lid.
Bake for 2 hours, then flip the short ribs over.  Continue to cook for 1 more hour, until meat is tender.
Taste, and season with salt and pepper as needed.
Serve warm with cauliflower risotto and sauteed kale.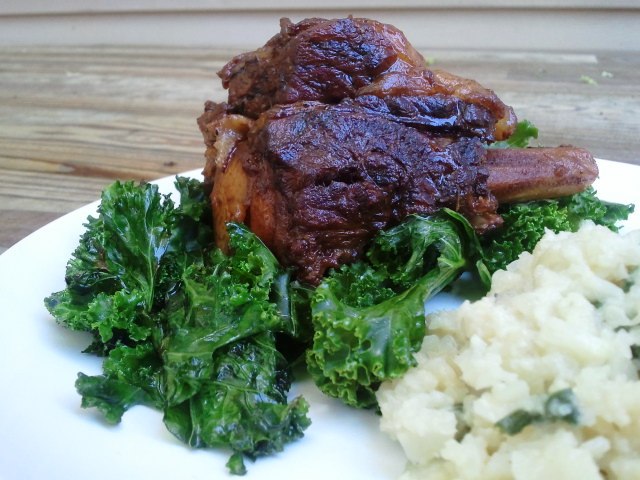 ---
---