Blueberry Peach Pecan Crumble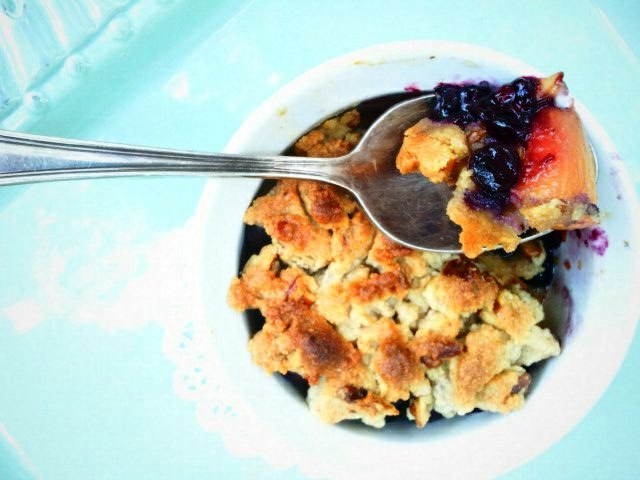 Crumbles are one of my favorite recipes to make year round using whatever fruit is in season.  Summer time is full of fresh berries and delicious stone fruits!  You could easily interchange any berry, or fruit depending on what is on your counter and ready to be used.  I kept this recipe very simple, by not making a "filling".  The juice and sweetness from the fruit itself keeps the flavors of this dessert light, clean and crisp.
Blueberry Peach Pecan Crumble
3 peaches- ripe, peeled and chopped
1 1/2 cups fresh blueberries
1/4 cup butter, room temperature
1/4 cup honey
1 cup almond flour, firmly packed
1/2 teaspoon salt
1/2 teaspoon cinnamon
1/2 cup chopped pecans
Preheat your oven to 325.
Divide your peaches and blueberries among your ramekins.
Make your topping –  combine the rest of your ingredients with a fork.
Use your fingers to "crumble" the topping onto each dessert. (it will be sticky)
Bake for 35-40 minutes until golden brown.
Serve plain or topped with freshly whipped cream.
*yields 6 individual servings or a two quart casserole dish.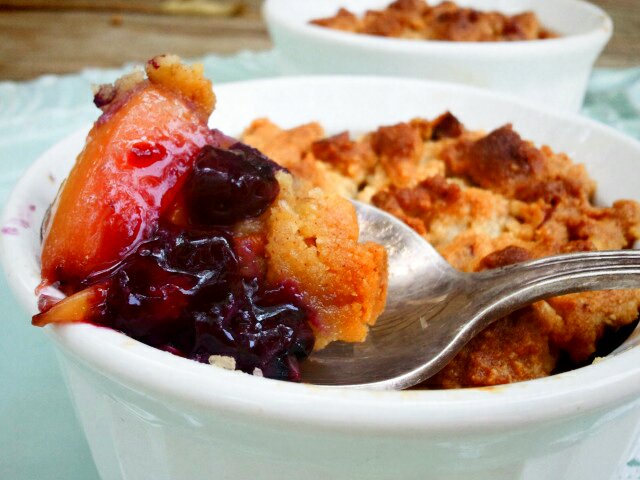 ---
---