"Corn" Dog Bites
Last weekend we took the kids to the Great Wolf Lodge, have you ever been?  It's an incredible indoor water park- a perfect vacation in the middle of winter!  While we were there my hubby and kids indulged in some gluten-full snacks, including corn dogs.  And boy did they smell oh-so-good.  That is when this recipe idea came to me, just in time for the Super Bowl.
Game day or not, these little appetizers are perfect for any party.  Just make these ahead of time and serve.  My version of corn dog bites, does not even include the usual main ingredient, corn.  As you know, I do not eat corn and have been looking for a way to make something similar to good 'ole cornbread.  Surprisingly, these mini corn dogs are not a far cry from the original and if I must say so myself, are addictive and delicious!
If you are going to eat hot dogs, look for organic, uncured all beef hot dogs.  If you can eat dairy, may I suggest my cheddar corn dog version. And if you like a little spice, throw in some freshly chopped jalapenos!
Definitely double the recipe for a party!
"Corn" Dog Bites
*yields 20-24 mini bites
1/4 cup melted butter
3 eggs
2 Tablespoons honey
1/4 cup almond flour, firmly packed
2 Tablespoons coconut flour, firmly packed
1/4 teaspoon baking soda
1/4 teaspoon kosher salt
3-4 hot dogs (cut in 1/2 inch slices)
1/2 cup shredded cheddar cheese (optional)
finely diced jalapenos (optional)
Preheat oven to 325.
Whisk together melted butter, eggs and honey.
Stir in dry ingredients.
Scoop into greased mini muffin pans, about 1 tablespoon of batter in each.
Place 1 hot dog slice in each muffin.
Bake for 14-17 minutes, until golden brown.
Serve warm.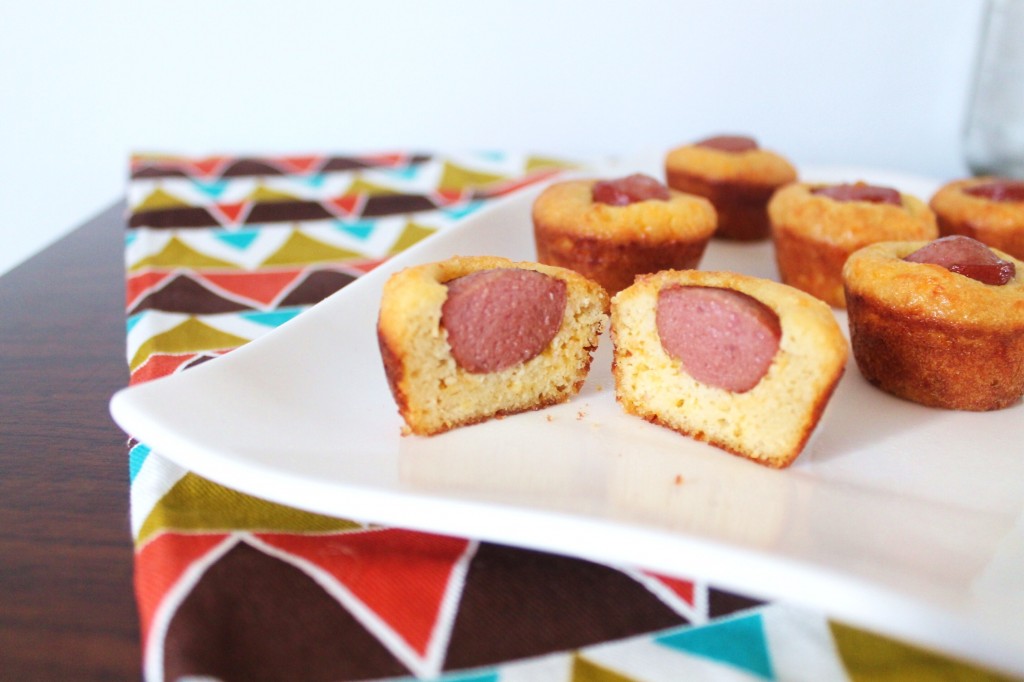 So which team will you be rooting for?  Even though I am a die-hard Redskins fan, I will be cheering for the Ravens!!
Here is a little family photo taken at the Great Wolf Lodge – the kids had a blast! And I can't believe I went down those crazy water slides :)  My kids sure do keep me young.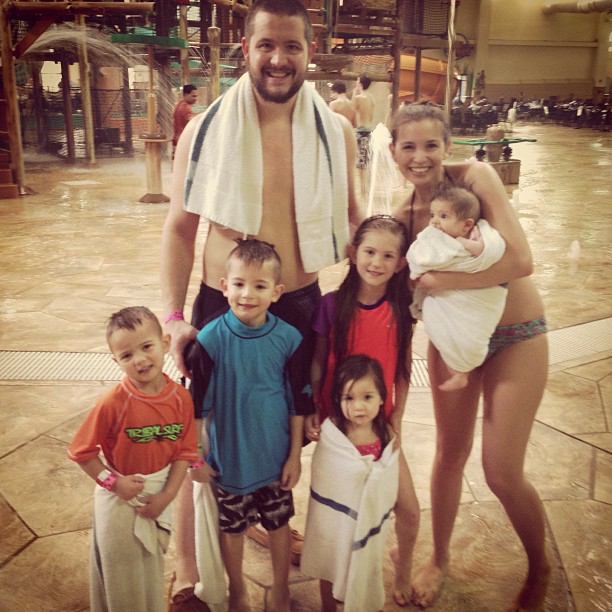 Not the best quality photo, but nonetheless we are all in there :)
~Michelle
Ps.  Don't forget to pin your favorite recipes on Pinterest or share them on Facebook, you can also follow me on Instagram @shelley608!
---
---