Roasted Brussel Sprouts with Brown Butter and Crispy Proscuitto
On the holidays I grew up just showing up and eating the food.  I got to enjoy the fruits of others long enduring hours in the kitchen without lifting a finger.  I didn't really realize what work went into the delicious feasts I partook in. You see every family gathering is massive… on both of my parents sides of family- many aunts and uncles, way too many cousins to count, little nieces and nephews running around… it's chaotic, but so much fun.  Most of my family has remained local, and we get together all the time for birthdays and of course every single holiday.  There is no such thing as a simple holiday meal or gathering.  So as I have gotten older, I now realize that I need to do my part and contribute!  I enjoy introducing new dishes to the family, and this past Thanksgiving I made these brussel sprouts.  They were a hit!  I will be making this recipe for many more Thanksgivings to come!  Maybe even Easter if we can't wait that long.  :)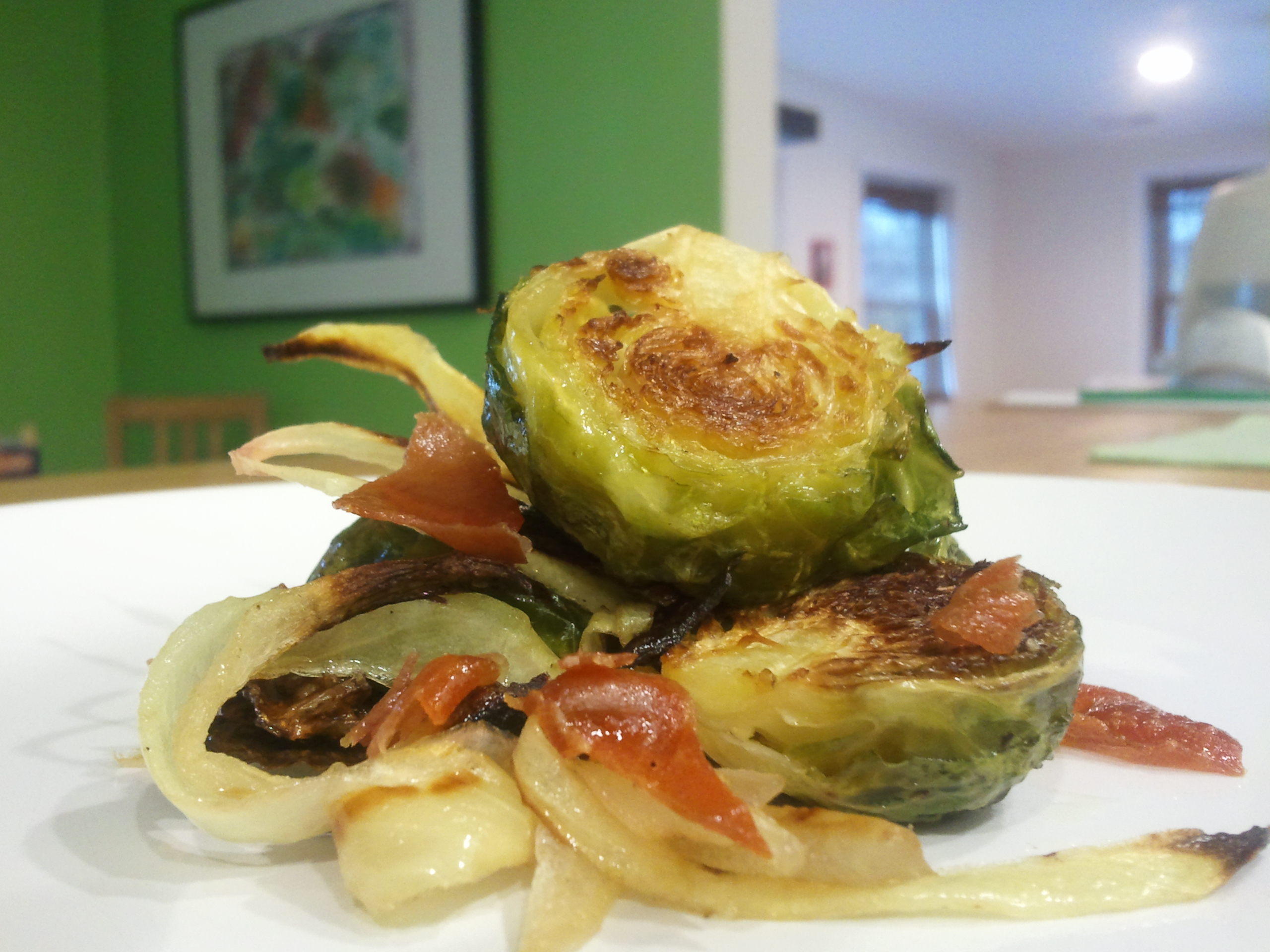 Roasted Brussel Sprouts with Brown Butter and Crispy Proscuitto
2 lbs brussel sprouts, halved
olive oil
salt and pepper
2-3 large onions,  julienned
1/2 stick of butter
2 cloves garlic, minced
4 slices proscuitto, pan seared until crispy
Parmesan cheese
Preheat oven to 400.
Toss brussel sprouts in olive oil and season with salt and pepper.
Spread into single layer on sheet tray and roast for 30-40 minutes until cooked thru with brown caramelized spots.  Tossing halfway thru baking.
At the same time on another sheet tray, coat onions in olive oil, season with olive oil and roast for about 10-15 minutes, until they begin to caramelize.
In a pan, brown the butter and briefly saute the garlic.
Toss the onions and brussel sprouts in the garlic brown butter.
Place in serving dish and top with crumbled crispy prosciutto and freshly grated parmesan cheese.
---
---