A little update on my life….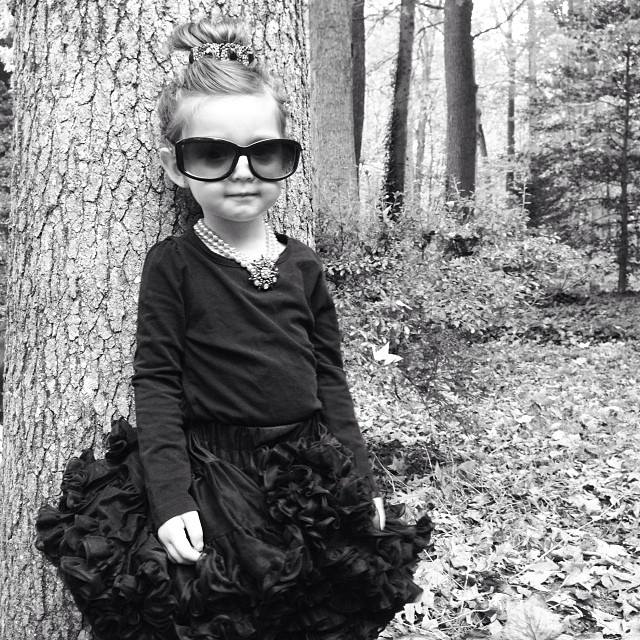 my little Audrey Hepburn…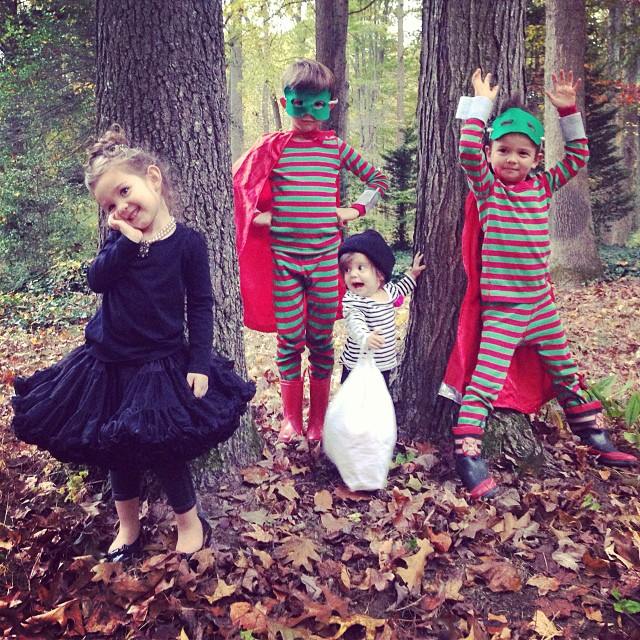 No Halloween is complete without Superheros….
And baby robbers on the run….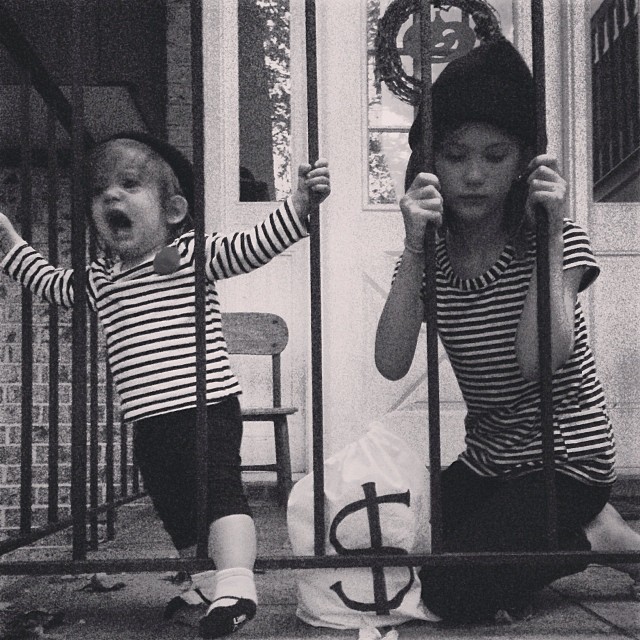 And unhappy jailbirds…. We had a fantastic time this year, what did you dress your kids as?  I'm always looking for new, creative ideas for the kids.
Happy Halloween!
So here we are again, months since my last post.  A lot has happened, some good, some not so good.  After receiving several emails of concern from readers, I have decided to finally get on here and share …. brace yourself for my longest post to date.
Beginning of May, Fiona was about six months old, I began having symptoms of a Crohn's flare and did my usual routine:  Strict SCD (specific carbohydrate diet) intro diet for a few days.  It mainly consists of consuming homemade chicken broth, eggs, super ripe bananas, and other protein like salmon.  Not too fun, but it usually does the trick.  But this flare was really kicking my butt… I was basically on bed rest, still breastfeeding (because I'm stubborn and always put my kids first)… My mom was coming to stay with me during the week to help take care of my other kids, while I attempted to ride out the flare naturally.  But eventually, after emailing with my GI, we decided to do a round of prednisone.
……Uhhhh, I hate steroids, they make you crazy, irritable, angry, hungry…. not to mention the terrible long term side effects it can do to your body.  But nonetheless, it is sometimes necessary to take, as much as I hate admitting, this drug can help curb a flare.  Unfortunately, after a quick round of steroids, we saw little improvement.  My GI prescribed a second round and this time I had started going back to Acupuncture.  My Chinese medicine doctor was very concerned that I waited so long to see him, so we began treatment right away.  Within 2 weeks of acupuncture, Chinese herbs, along with my steroids I was already on my way to remission.  I felt a million times better, was beginning to gain weight and get my energy back.  I was also going to the chiropractor weekly.  I know that this protocol may not work for everyone, but I just want this to serve as an encouragement to you all or those you know who suffer from auto immune or digestive disorders.  I have no intention of ending my acupuncture or chiropractic treatments.
I also believe its important to have an open line of communication with your GI.  At my last check up with her, she seemed so pleased with my current condition that she said there was no reason for her to put me on any type of maintenance medication and to keep up with what I am doing.  She has always been supportive of my diet (SCD) and is now recommending acupuncture and chiropractic treatment to her other patients.  She is the first GI that I have ever had to acknowledge the correlation between diet and Crohn's disease! Make sure you find one who believes that too, it's so important to have a supportive doctor behind you.
I looked back thru the years and made an eye opening discovery:  All of my major Crohn's flares were all between 6-8 months postpartum.  My very first flare, when I was diagnosed, my son Andrew was 6 months old.  Then another large flare after Juliette and of course the most recent flare after Fiona.  These have been the only flares that have ended in a hospital stay or needed medication to curb.  Needless to say, I don't think it is in my best interest to have any more children.  I am very thankful for the 5 little blessings I have :)  I guess only time will tell if my theory is true….  I'm curious if any of you experienced the same thing postpartum, perhaps a change in hormones?? Please share, I'd love to hear  your story and experiences!
So I was sick in May-June, then super busy with the kids home ALL day EVERY day of summer… I thought to myself, oh I'll get back to blogging again once the kids start school…. well school started, and so did soccer, and chess club and student government and homework and bible study. Then, I finally broke out my camera to photograph a new recipe and my zoom lens wasn't working!  Seriously, best. luck. ever.
But I'm determined to get back on track…Many more exciting things to come! I have been creating and compiling tons of new recipes to share with you all! Some things coming up: crepes, caramel walnut tart, slow cooker pork roast, and of course Thanksgiving recipes and tips will be included.  I just need to get cooking, grab my camera and get to work.
By the way, I know I didn't respond to all of your emails, but I truly appreciate your concerns and encouragement during these past few months.  Just sorry it has taken so long to get on here and share that I am really doing okay!  Very healthy and happy, but as always my motto is "Family first"  and that will never change.
Say a little prayer for my daughter Juliette, who is 3.  We are in the process of testing for Celiac.  We believe she may have DH (Dermatitis Herpetiformis), which is a rash-like manifestation of Celiac on the skin, often mistaken for Eczema.  I'm hoping for a clear diagnosis, so we can fully change her diet.  She has been mostly gluten free for the past year, because she developed what I thought was eczema and it became worse when she ate gluten. I had never even heard of a rash associated with Celiac until a family friend mentioned it.  If you have DH, it confirms you have Celiac, but not all of those with Celiac suffer with DH.  If her test is positive, the switch to gluten free will not be a stretch, but we will obviously be more careful about cross contamination. Do any of you have DH?  For those with children who have Celiac, was it hard to get a proper diagnosis? Please share your stories and experience in my comments.  I'd like to think that we are a community and can be here for eachother. Whether it's Crohn's, Celiac or IBS.  This journey is never easy, but we are not alone.
For getting 3 viles of blood drawn yesterday, she still seemed pretty happy:
Don't forget you can keep up with me on my Facebook page and also for my day to day life on Instagram- under the name shelley608!  Warning, I post pictures of kids and food all the time… And you can pin my recipes to Pinterest with that little button below my name that says pin it… Okay, I promise it won't be another 4 months til my next post!!
Many blessings, Michelle
---
---