Bacon-Cornbread Stuffing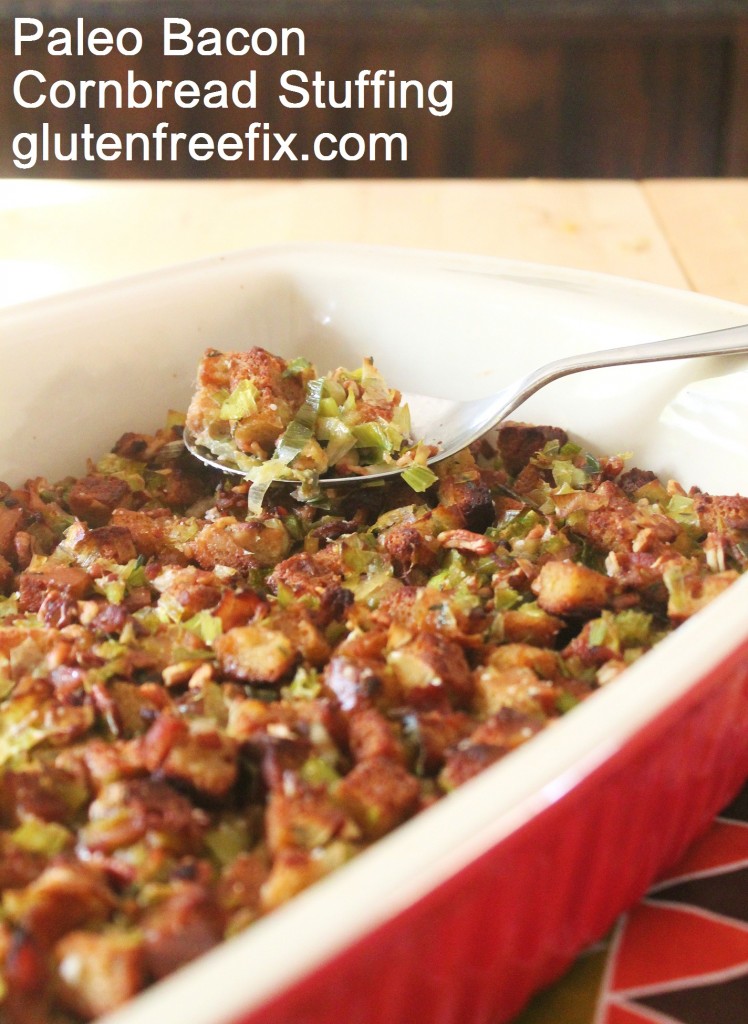 So in all of my years gluten free, I have never really attempted to replicate stuffing.  For one, growing up my idea of stuffing was from a box, I think we all know which one I am referring to.  And secondly, I was never really a big stuffing person, so being new to the gluten free lifestyle, I was a bit overwhelmed and was just focused on having the basics like turkey and a few sides.
Well now I'm up for the challenge, making a complete gluten free, paleo Thanksgiving feast.  For the first time in years I am no longer the only one eating this way in my family, my daughter and a few cousins have jumped on the Paleo bandwagon (and feel amazing by the way!) I tell you, it does feel nice not to feel alone and sitting in the corner eating my "special" food…. everyone giving you the sad eyes and pitying you.  That is not the case anymore, these days I make my "special" foods in large enough portions to share and family members are actually interested in eating my food :)
My husband really enjoyed this stuffing, he said the texture was great, flavor was on point…. his only gripe, not a fan of nuts in stuffing.  So I left that optional for you to decide.  I personally love the nuts and the nice added crunch they bring to the stuffing. So you make the call.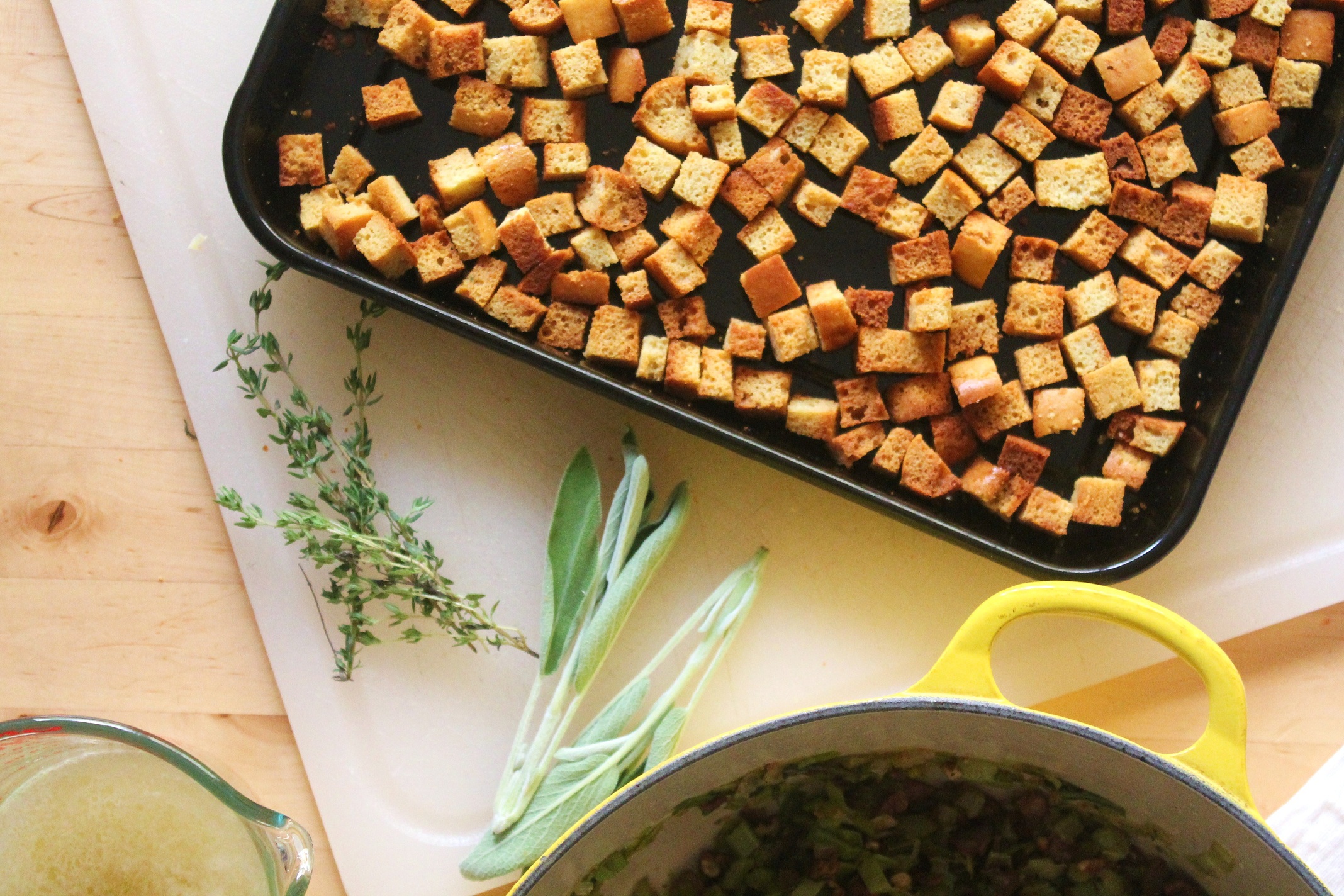 Bacon-Cornbread Stuffing
*serves 6-8
one recipe gluten free cornbread<—click for recipe
1/4 lb of bacon, chopped
1-2 leeks, halved lengthwise then sliced thin (3 cups)
1 cup diced celery
2 tablespoons butter
1 teaspoon finely chopped fresh thyme
1 teaspoon finely chopped fresh sage
3/4 teaspoon kosher salt
1/3 cup chopped pecans (optional)
1 cup turkey or chicken broth
2 eggs
2 tablespoons butter for topping (optional)
Cut up cooled and fully cooked cornbread.  Cut into tiny cubes (think stovetop), lay in a single layer on sheet tray and bake at 275 for 25-30 minutes until lightly golden and crispy. Remove from oven, then turn oven up to 325.
In a large pan saute bacon until almost crisp.  Add leeks and celery, cook on medium heat until tender about 8 minutes.  Stir in butter, thyme, sage and salt. Remove from heat. Add bread cubes.
In a large bowl, whisk together broth and eggs.  Add vegetable and bread mixture. Add nuts. Toss to combine.
Spread stuffing mixture in an even layer in a 9×13 baking dish. Dot top with extra butter.
Bake for 25-30 minutes until golden brown and crispy on top.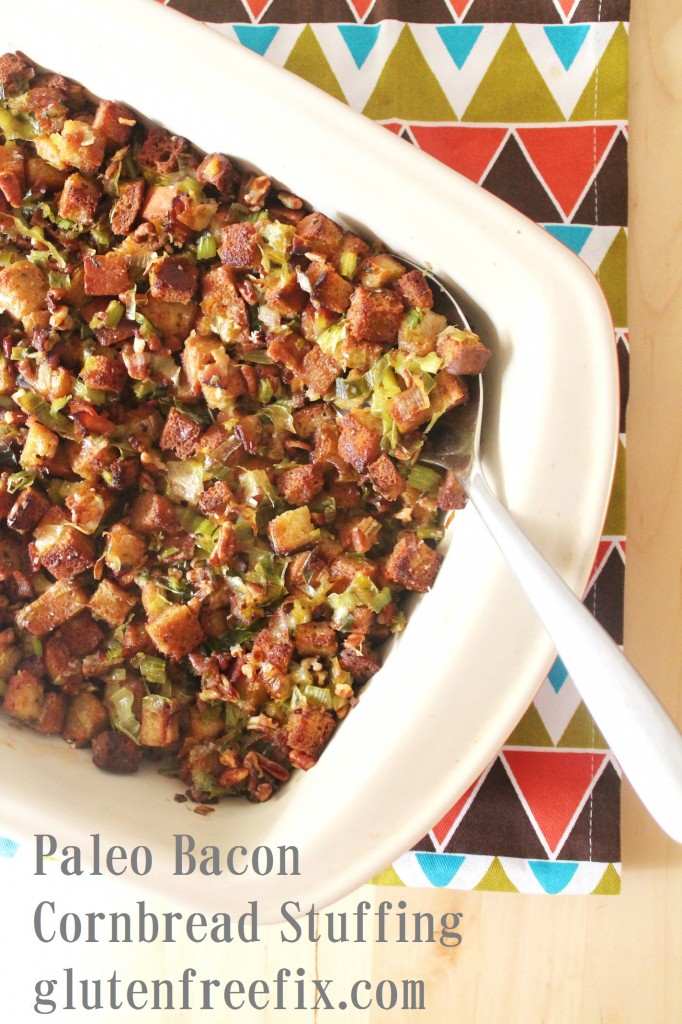 A few more steps go into this, but no more than a gluten-full stuffing :)
More to come!
Michelle
---
---