Butternut Squash with Browned Butter and Sage

This is very easy side dish that requires very little work!  The hardest task is cutting the butternut squash in half.  Squash come in various sizes, so adjust the recipe accordingly to suit the amount of mash your squash yields.
*To get the 4 cups of mashed butternut squash called for in the recipe, simple cut in half lengthwise your squash, scoop out the seeds and drizzle with a little bit of oil.  Roast at 375, flesh side down on a sheet tray, until tender (about 30-40 minutes depending on the size of the squash)
Butternut Squash with Browned             Butter and Sage
4 cups mashed butternut squash (about 1 large squash)
4 tablespoons butter
1 fresh sage leaf
salt and pepper to taste
freshly grated nutmeg
Prepare squash and set aside.
In a small pan, combine butter and sage leaf.
Cook until golden brown and fragrant.
Stir into your butternut squash and combine well.
Taste, season with salt and pepper as needed.
Sprinkle with just a touch of fresh nutmeg.
Serve warm.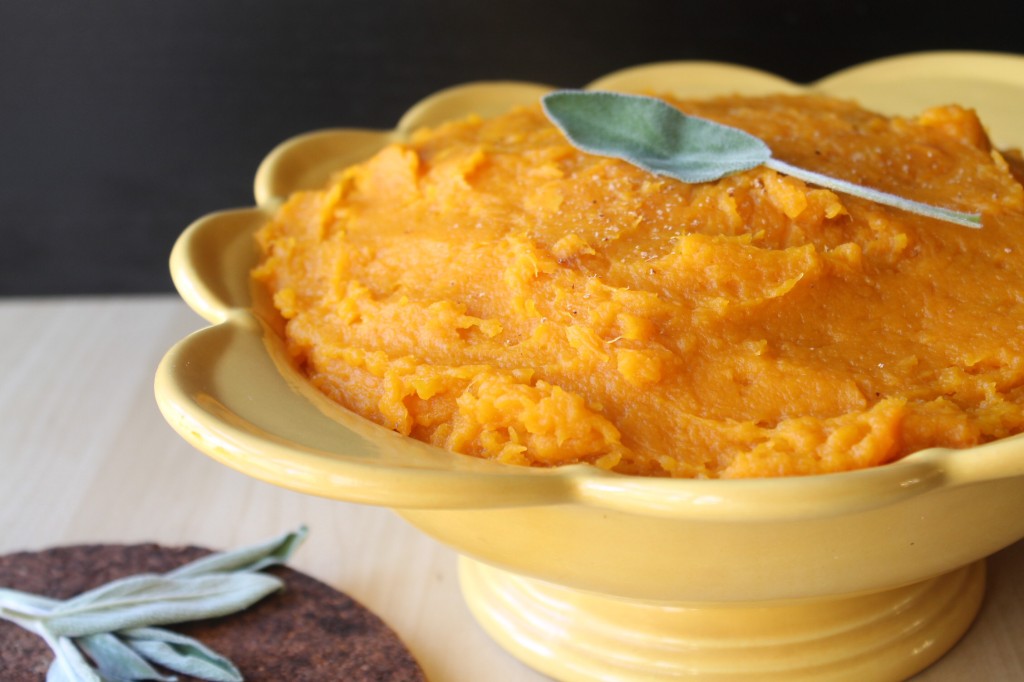 This dish can be prepared a few days in advance and warmed right before serving.  Making it an ideal side dish for your Thanksgiving spread!  I recommend doubling or triple-ling the recipe, because it will go fast :)
Please be sure to check back tomorrow for my 10 tips to a "perfect" turkey!
Oh, and if you are looking for some Thanksgiving meal plan inspiration, click –> here <–
~Michelle
---
---