Chocolate Hazelnut Thumbprint Cookies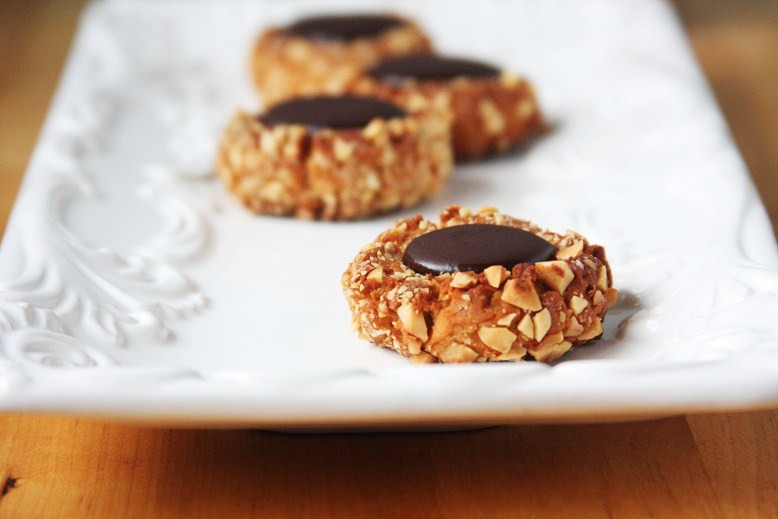 Remember those little chocolate hazelnut candies that came individually wrapped like a little present in gold foil??  They are now a distant food memory, but I can still taste them…  Well those little guys were my inspiration for today's cookie.
This is kind of bizarre the way this recipe turned out, but you will only need 1 size measuring cup!
Chocolate Hazelnut Thumbprints Cookies
1/2 cup melted butter
1/2 cup honey
1/2 cup almond flour, packed
1/2 cup coconut flour, packed
1/2 teaspoon baking soda
1/2 cup chopped toasted hazelnuts
chocolate ganache filling (12/17 – I just realized I posted the double recipe for the filling! It is now changed to the correct proportions below *)
2 oz unsweetened chocolate
1/4 cup honey
1/4 cup butter, room temperature
Preheat oven to 325.
Make cookie dough:  Whisk together melted butter and honey.  Stir in dry ingredients (except hazelnuts).  Combine well.
Using a cookie scoop or hands, shape into 24 rounds.  Roll in chopped hazelnuts.
Place cookies on baking sheet and making a good size "thumbprint" in each cookie.
Bake for 16-18 minutes until golden brown.  Place on cooling rack and let cool completely before filling with ganache.  They will seem soft at first, but will firm upon cooling.
Meanwhile, prepare the chocolate ganache.  Gently melt the chocolate and honey together.  (Be sure not to overheat as the chocolate will burn!)   Carefully add room temperature butter, 1 tablespoon at a time.  Keep whisking until shiny and smooth.
To fill the thumbprint cookies, carefully pour ganache mixture into each cookie. Or you can gently fill the cookies with a small spoon.  (Or use a ziplock bag with the tip cut off to pipe in the filling.) The chocolate will eventually set at room temperature, but you can place the cookies in the fridge to speed up the process.
Store cookies in an airtight container up to 5 days.
*yields 2 dozen cookies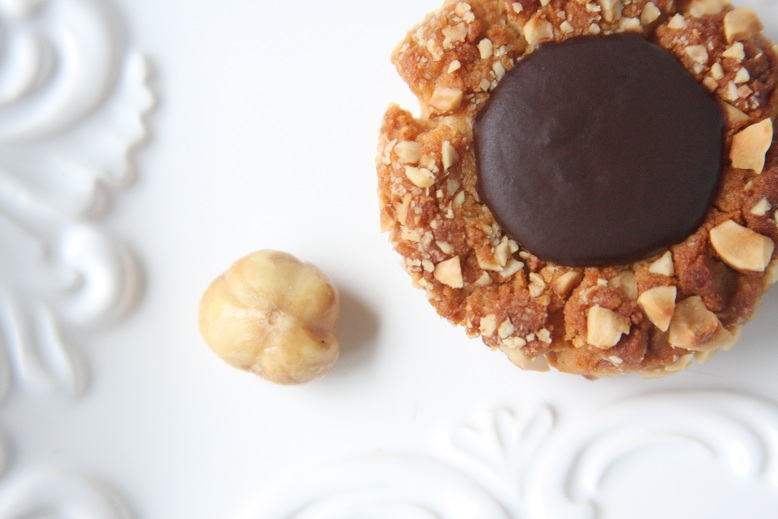 This recipe is very versatile.  You can use any nut you would like, and easily change out the filling to your favorite jam.  The possibilities are endless!
---
---