Crabs with the family!
Yesterday my husband and I decided it was important to get one last good crab pickin'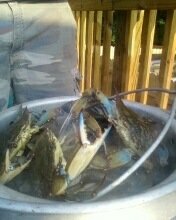 day in. So we went to our local guy who catches them fresh on the Eastern Shore every morning.  This is always a fun experience for our children.  We bring them home alive and my kids to get help my husband cook them.  For those of you who do not get crabs this fresh, you do not even know what you are missing!  I guess being born and raised in Maryland, I'm pretty spoiled with the easy access to maryland blue crabs.  King crabs, Dungeness and and Snow crabs do not even compare in flavor and taste!!! I may be biased, but I think most would agree.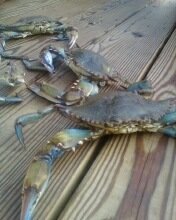 We bought a whole bushel of crabs, so we decided to invite some family over to partake.  It's always a more enjoyable experience with the people you love.  Everyone gathered around the table picking crabs for hours on end.  We have trained our kids well to pick the crabs on their own,  and they absolutely LOVE it!  They beg to get crabs almost every Sunday! I will be making gluten free crab cakes this week, with the leftovers.  Recipe will be posted soon!!
---
---