Gluten Free Roasted Broccoli
A few weeks ago my family, along with my sister Melanie and her family went apple picking.  While we were there we discovered you could also pick broccoli and spinach.  I'm not sure what was going through my husband's mind, but he picked about 20 lbs of broccoli.  Needless to say that week we ate broccoli every day…. My brother in law, Justin Jones (awesome musician by the way… check him out) had the great idea of grilling the broccoli and basting it with Caesar Dressing.  I must say, it was some of the best broccoli I have ever eaten!  I'm not sure it's because it was the freshest broccoli I have ever eaten, or the combination of flavors really worked.  Well, now that is not really "grilling" season, and I'm on a big roasting veggie kick – I've decided to take this recipe to the oven.
On a side note, if you ever have the chance, take your kids to pick apples or any vegetable for that matter.  It's great for them to see where their food comes from and how it is grown.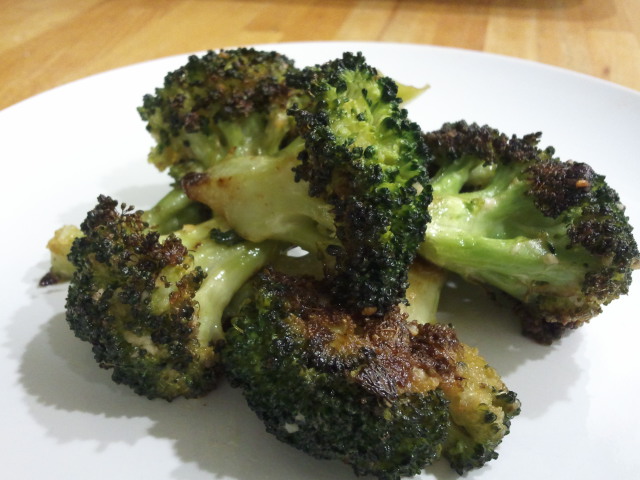 Gluten Free Roasted Broccoli
2 heads of broccoli, cut into florets

olive oil, enough to coat
salt and pepper
Preheat oven to 425.
Place broccoli on sheet tray and toss with olive oil.
Roast for 12-15 minutes, depending on size of florets.
Remove from oven.
Set broiler on High.
Drizzle 2-3 tablespoons of caesar dressing, gentle toss to coat.
Broil on high 2-3 minutes, 6 inches from top.
Taste, season with salt and pepper if needed.
My recipe for caesar dressing can be found here.  I think it makes a big difference to use freshly made dressing. Mine also has parmesan cheese in it, which adds to the texture and flavor.
---
---