Gluten Free Chocolate Chunk Scones
These are a bit more indulgent than your average scone… chocolate for breakfast?  Yes.  I am a grown up now, and I decided that's ok.  I am hearing more and more about the health benefits associated with dark chocolate.  So yes, I am going to improve my health with a dose of antioxidant packed dark chocolate for breakfast :)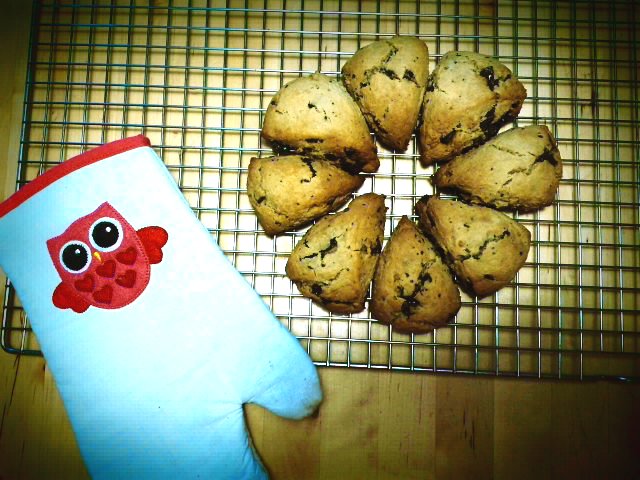 Gluten Free Chocolate Chunk Scones
2 eggs
1/4 cup butter, melted
3 tablespoons honey
1 cup almond flour, packed
2 tablespoons coconut flour, packed
1/2 teaspoon baking soda
dash of sea salt
1/2 cup chopped bittersweet chocolate
Preheat oven to 325.
Whisk together eggs, butter, and honey.
Add all dry ingredients except chocolate.  Combine well.
Stir in chocolate.
Scrape dough onto plastic wrap and flatten into a 6 inch round disc.  Chill.
Remove from fridge and cut into 8 wedges. (dough will be sticky, clean your knife in between cuts)
Place on parchment or silpat lined baking sheet and bake about 20-25 minutes until golden brown.
Serve while still warm.  Enjoy!
*yields 8 scones.
*alternatively you can scoop the dough right away and bake them- the chilling process just makes it easier to cut into wedges
---
---