Shrimp and Lentil Stirfry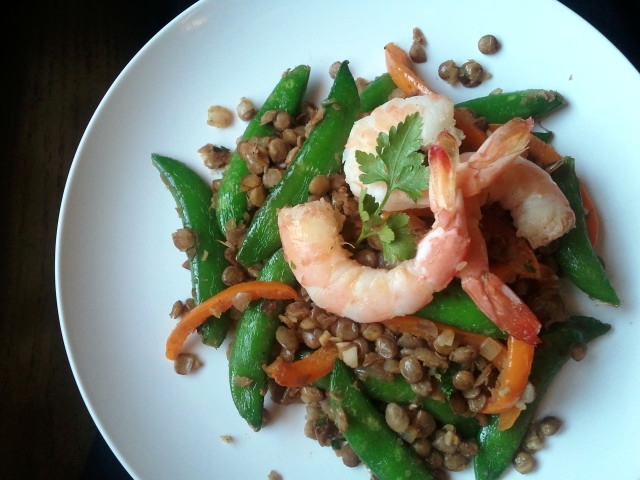 This is a simple and quick meal to throw together.  Lentils have become a staple here lately.  I soak and cook a whole bag, then use them throughout the week in different recipes.  If you haven't soaked your own beans, here are some reasons worth considering the extra step. 
The vegetables in this dish are intentionally under cooked and add a nice crisp texture, while lending a sweetly refreshing flavor to the stirfry.  This effortless one pan dinner is a must try.
Shrimp and Lentil Stirfry
2 shallots, finely chopped
3 cloves of garlic, minced
1 teaspoon ginger, freshly grated
1 large sweet bell pepper, julianned
1 1/2 cups sugar snap peas
3 cups cooked lentils
1 lb shrimp, peeled and devained
1 tablespoon tamari or red wine vinegar (if you can't do soy)
1 lime
parsley
Heat a large skillet with a little bit of olive oil,  briefly saute shallots, garlic, ginger, and bell pepper until fragrant.
Add shrimp, soy sauce, peas and lentils.  Season with salt and pepper. Cook just until shrimp turn light pink. 
Pour into serving dish.  Drizzle with a little olive oil and a squeeze of fresh lime juice on top.  Garnish with freshly chopped parsley.  Serve.
---
---