Bacon, Apple and Cheddar Frittata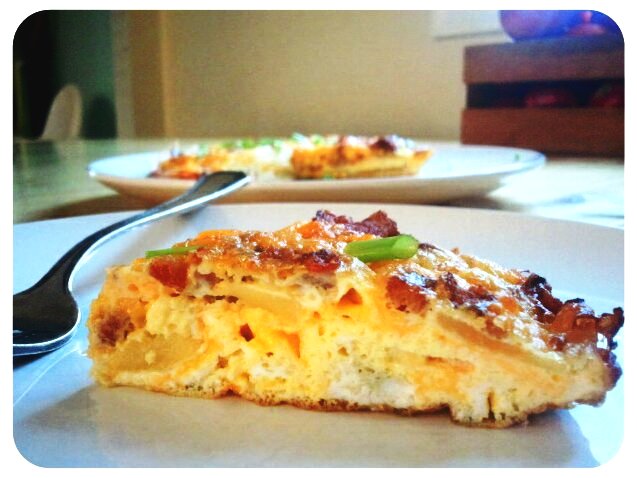 This simple breakfast is delicious.  You can't go wrong with bacon and cheddar, but apples… in eggs??? Oh, believe me… it works.  Don't leave out the scallions, they not only make a lovely garnish, but the fresh onion flavor brightens the dish :)
Bacon, Apple and Cheddar Frittata
6 slices of bacon, cut into 1/2 inch pieces

8 eggs
2 apples, peeled and cut into 1/8 in slices
1 cup, plus 1/2 cup shredded cheddar cheese
salt and pepper
scallions
Preheat oven to 400.
Heat an oven proof skillet, add bacon and cook until crisp. Turn burner down to low.
Remove bacon and grease, reserving 1 tablespoon of grease in the skillet.
In a bowl, combine eggs and 1 cup cheese. Season with salt and pepper.
Pour egg mixture into hot skillet.
Arrange apple slices on top, sprinkle on bacon and top with remaining 1/2 cup cheese.
Bake in oven for 20-25 minutes until set.
The frittata should slide right out (thanks to the bacon grease!) onto a serving dish.
Serve warm, or at room temperature.  Garnish with chopped scallions.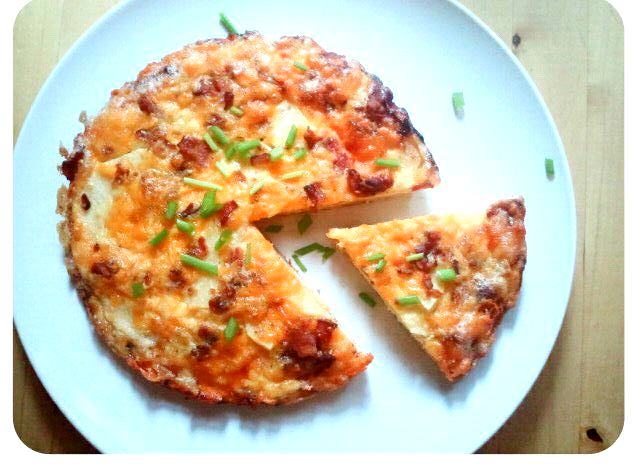 *yields 4-5 servings
---
---