Pumpkin Coffee Cake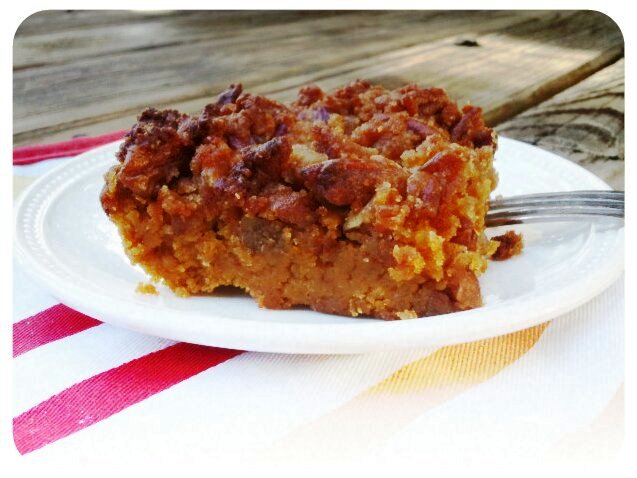 Everything is better with pumpkin in it.  Why not coffee cake?  Moist, delicate and full of flavor…. this gluten free coffee cake is the perfect treat to make for a cool, fall morning breakfast with friends.
Pumpkin Coffee Cake
1/2 cup butter, melted  (or oil)
1/2 cup honey
1 egg
1 cup pumpkin puree
1 cup almond flour, packed
2 tablespoons coconut flour, packed
1/2 teaspoon baking soda
1/2 teaspoon salt
1/2 teaspoon cinnamon
1/8 teaspoon nutmeg
1/8 teaspoon ginger
Topping
1/2 cup almond flour, packed
2 tablespoons melted butter
1/4 teaspoon cinnamon
1/4 teaspoon salt
2 tablespoons honey
1/2 cup chopped pecans
Preheat oven to 325.  Grease a 9×9 glass dish or pie plate.
Stir together wet ingredients.
Add all dry ingredients and whisk well to combine.  Pour mixture into pan.
To make topping, combine ingredients with a fork or fingers.  Sprinkle topping over batter.  (it will be sticky)
Bake for 35-40 minutes until cooked thru.
Tastes great warm or at room temperature.
---
---