Honey-Lemon Roasted Salmon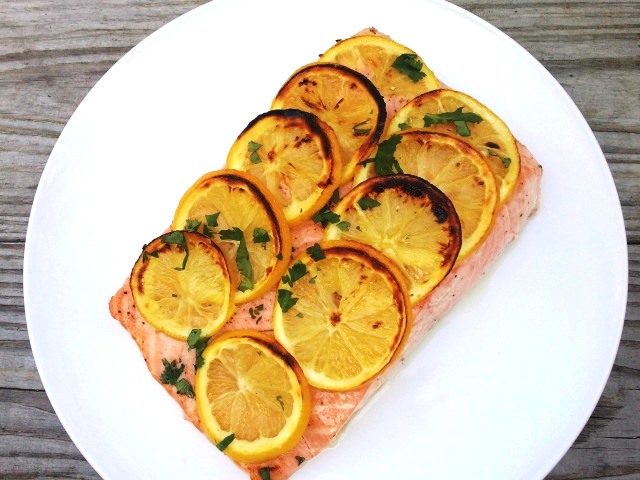 I loved me some pan seared salmon, but it's nice to mix it up every once in a while.  This eye catching, roasted salmon recipe is refreshing and quite satisfying.  Two things I like about roasting salmon:  it is super quick and doesn't stink up my whole house!  Simple ingredients+bold flavors = Gluten-free salmon goodness! 
Cooking the salmon with lemon slices on top allows the lemon flavor to really sink in and create a wonderful flavor throughout the fish.  The drizzle of honey brings just the right amount of balance and roundess to the dish in contrast to the brightness of the lemon.  Enjoy on top of a fresh summer salad or you favorite steamed veggies.
Honey-Lemon Roasted Salmon
one large skinless salmon fillet, about 1 1/2 lbs
1 lemon, thinly sliced
course sea salt and pepper
olive oil
1 tablespoon honey
2 tablespoons butter, room temperature
Preheat oven to 500.
Drizzle olive oil onto salmon.  Season with salt and pepper on both sides.
Place salmon on a rimmed baking sheet.
Layer lemon slices onto salmon.
Drizzle with honey.
Place on center rack of oven and cook for 10-15 minutes, depending on thickness of salmon fillet.  Do not overcook your salmon, no one enjoys dry fish.
Place salmon on serving platter.  Stir butter into the pan drippings to create a sauce and pour over the fish.  Serve warm.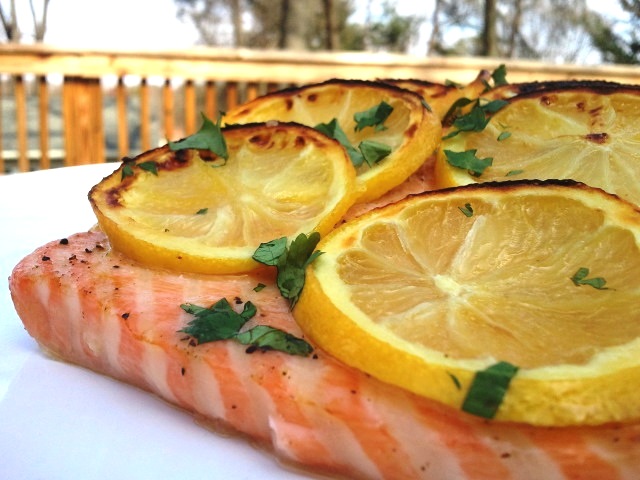 ---
---