Lemon Curd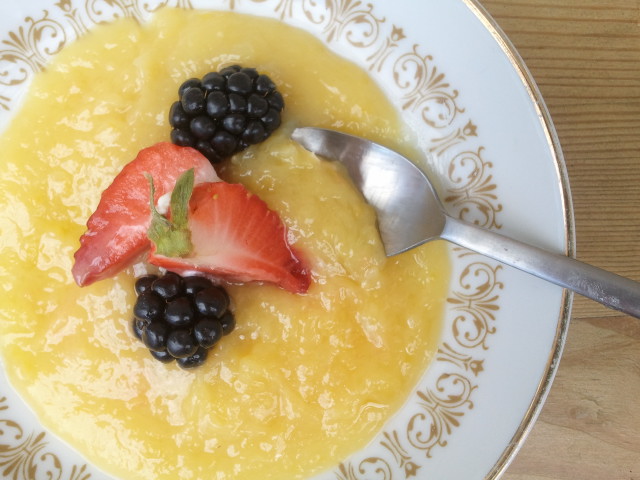 Lemon Curd is so bright and flavorful.  Perfect with berries, dolloped on cakes or layered into a lemon meringue pie.  Nothing screams Spring, like a dessert made with fresh lemons!  This version is sweetened with honey for a truly decadent and refreshing treat.
You will see this gluten free, grain free and sugar free lemon curd recipe used in many future recipes, including lemon meringue pie, lemon mousse, and cupcakes. 
Lemon Curd
4 lemons
8oz butter, cut into pieces
3/4 cup honey
4 eggs
Zest your lemons, set zest aside for later use.
In a large heavy bottom stainless steel pot, slowly melt your butter.
Juice your lemons in a large stainless steel bowl.  Add juice to melted butter.
In the same stainless steel bowl, whisk together your eggs and honey.
Bring the butter and lemon juice mixture to a boil.  Then temper your egg mixture slowly by adding a small amount of the hot liquid, whisking at the same time.  Slowly mix in the rest of the hot mixture. 
Pour entire mixture back into pot. Add lemon zest.
Bring to a boil, whisking frequently.  Cook for an additional 4-5 minutes until it has thickened and is nice and shiny.
Remove from heat and pour into a bowl.  Cover with plastic wrap, directly on top of the lemon curd (to prevent a skin from forming).  Refrigerate for up ot 1 week. 
*if you are afraid to cook over direct heat, you can cook the mixture over a double boiler of simmering water.  However, it will take longer to thicken and cook.  I do not like to strain the lemon curd after cooking because I actually like the texture of the pulp and zest in it.  However if you would like a smoother finish, feel free to strain your lemon curd after cooking.
---
---