Sea Salt Caramel Brownies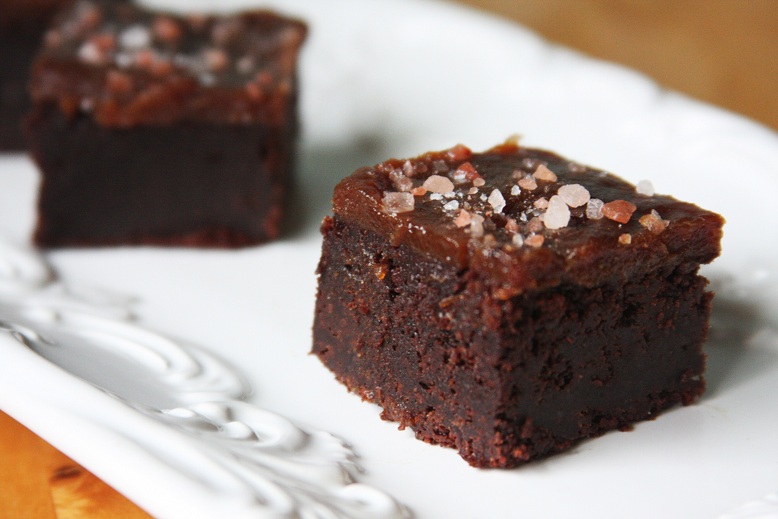 I was always the kid eating a bag of popcorn with a handful of chocolate candies  at the same time.  There is just something so good about mixing salty and sweet.  Your taste buds just don't know what to do!
These decadent brownies are a combination of two of my favorite recipes:  my perfect brownies and easy caramel, then sprinkled with a little bit of sea salt.  I use himalayan sea salt, which has a lovely pink hue.  But use whatever course sea salt you have on hand.  Whatever you do, do NOT use table salt.
1/2 cup butter
4 oz unsweetened chocolate
1/4 cup coconut oil
3/4 cup honey
2 eggs
2 tablespoons cocoa powder
2 tablespoons coconut flour, packed
1/4 cup almond flour, packed
1/2 teaspoon baking soda
1/2 teaspoon salt
Preheat oven to 325.  Grease a 9×9 square baking dish (for thick brownies) or 9×13 glass dish for regular brownies.
Melt together the butter, chocolate and coconut oil.
Whisk in the honey.  Allow mixture to cool down before adding your eggs.
Stir in your eggs.
Add your flours, baking soda and salt.  Whisk well to combine.
Spread mixture evenly into greased baking dish.
Bake for 25-30 minutes.
Let cool completely before topping with caramel.
1/2 cup of butter, room temperature
1/2 cup of honey
1/2 cup of cashew cream, coconut milk or heavy cream
In a heavy bottom saucepan, combine butter and honey.  Bring to a boil.
Continue to cook, stirring frequently until it turns a dark caramel color.  You want it to be slightly darker than what you want in the end.  Remove from burner.
Add milk (stand back, it will splatter!)  Stir to combine.
Let cool slightly and allow to thicken, about 5 minutes.
Pour caramel onto cooled brownies.  Spread evenly to cover.
Sprinkle with sea salt.
Cut into small squares, as they are very rich!  These cut most cleanly once chilled.
Store in an airtight container in the fridge up to 1 week.
*Or try them warmed up for a gooey treat!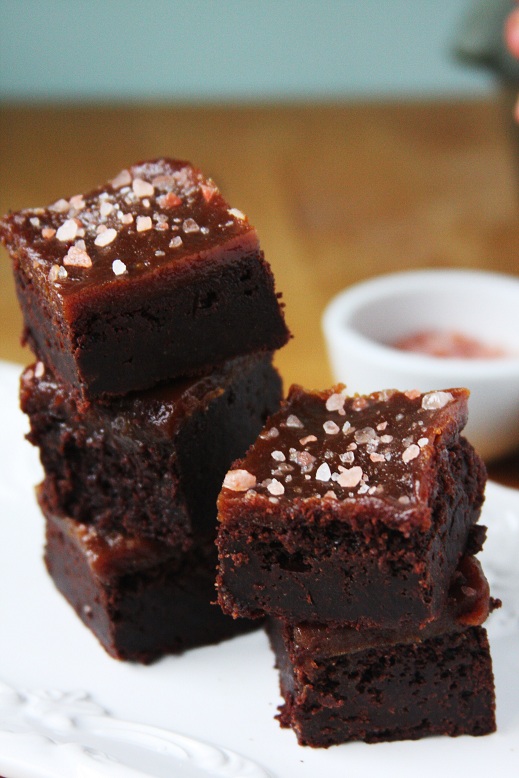 ---
---