Shepherd's Pie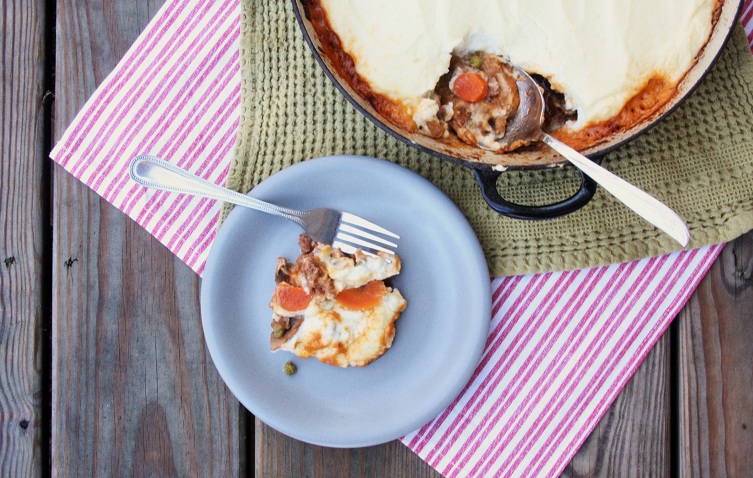 Did you know that a Shepherd's Pie is only called that if you use lamb?? Otherwise it is technically called "Cottage Pie", if using beef or turkey. Use whatever meat you prefer or have on hand.  Depending on the price of meat or the availability of ground lamb, I often use beef.  I replaced the usual mashed potato topping with a tasty cauliflower mash… obviously potatoes are gluten free, so it is a preference if you would still like to use them.  Just follow the recipe and then simply top with your potatoes instead.  However, if you haven't ventured into the world of cauliflower mash, I want to encourage you to try it in this recipe!  I promise you will be pleasantly surprised :)
I have brought this Sheperd's Pie to a number of family events and potlucks and the dish is always wiped clean!  I even get requests to bring it places!  There is just something so comforting about this meal.
Shepherd's Pie
1 large onion, chopped

2 carrots, diced
1 lb ground lamb, beef, or turkey
4 cloves garlic, chopped
10 oz mushrooms, chopped
1/3 cup red wine
3 tablespoons tomato paste
1 1/4 cup chicken stock
1 teaspoon fresh thyme leaves
1/2 teaspoon dried oregano
1 cup frozen peas
sea salt and fresh cracked pepper to taste
Mashed Cauliflower Topping
1 head cauliflower, cut into florets and steamed 15 minutes
4 tablespoons butter
1/2 cup grated swiss cheese
1/2 cup grated parmesan cheese
salt and pepper to taste
The first step is to prepare your mashed cauliflower topping.  Combine the steamed cauliflower and all of the ingredients into a food processor or blender.  Blend until smooth and fluffy.   Set mixture aside.
Preheat your oven to 400.
Heat a large cast iron or oven proof skillet with 2 tablespoons oil.
Saute the onion and carrots, until onions are translucent, about 5 minutes.
Add your meat and cook until mostly browned.  Add the mushrooms and garlic.  Cook for another 3-4 minutes to soften mushrooms.
De-glaze the pan with red wine.
Stir in the tomato paste, stock and herbs.  Cook down for another 3-5 minutes until some of the liquid cooks out and it thickens slightly.
Lastly, stir in the peas.  Give it a quick taste and season accordingly with salt and pepper.
Spread the cauliflower mash evenly on top.
Bake for 20-25 minutes until lightly golden and bubbly.
*if you do not have a dutch oven or oven proof skillet, just transfer the cooked meat mixture to a casserole dish, cover with mashed cauliflower and bake accordingly.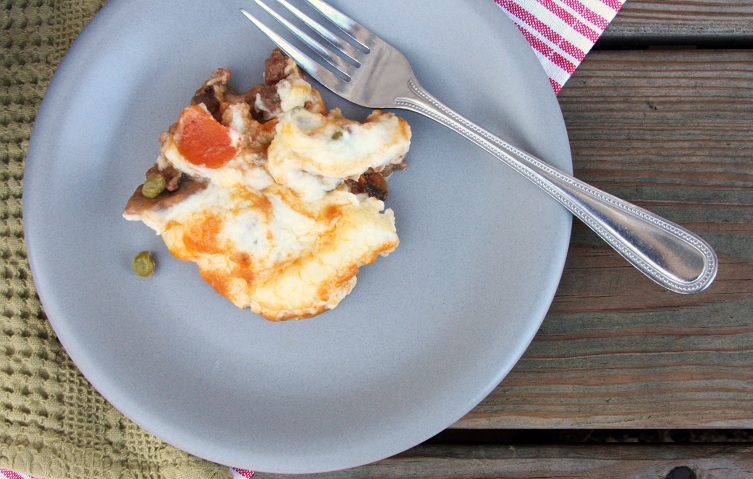 *this recipe is a wonderful potluck dish and is easy to transport… always a crowd pleaser!
---
---