The Perfect Gluten Free Brownie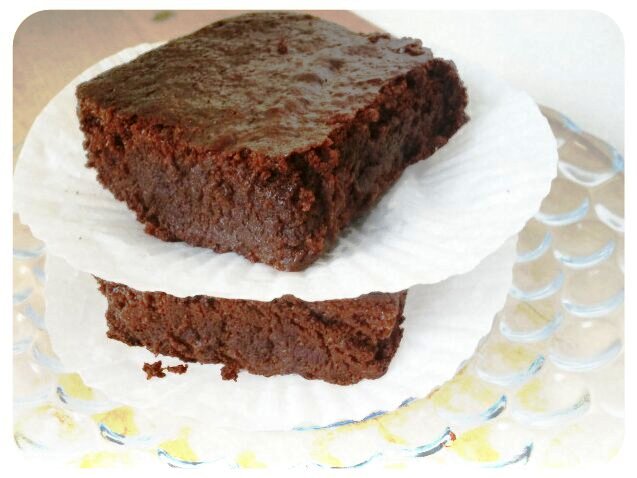 I have been making a pan of brownies every week for the past few months.  That's alot of chocolate….  but after several attempts, I have reached what I think is the perfect gluten free brownie (for me at least :P). These brownies are thick, dense, moist, slightly cakey with a little crumb.  Seriously, I am one happy gal!  I usually only eat brownies if they are loaded with nuts and chocolate chips, however this base recipe is perfect on it's own.  But once you add in some toasted pecans, it takes these brownies to a new level!  These gluten and grain free brownies will be sure to please any chocolate lover!
I'm going to be honest with you… there are sometimes when I make something and I try to convince myself that it tastes just as good as it's gluten filled counterpart-  I don't just publish anything on here, I am pretty serious about only posting recipes that I absolutely love.  That's why sometimes I may say something I have made, but don't see a recipe up- at least not for awhile… that is because I like to tweak the recipes until I am fully satisfied.  That is why it is also really important to me that you leave feedback after trying a recipe.  You may have noticed, but my comments are turned off right now ( my site was getting overloaded with spam comments daily and moderating them became a full time job!)  So hopefully we will get that taken care of soon and the comments will be turned on again.  Feel free to post any feedback on my facebook site or to my email- glutenfreefix@gmail.com!
I love my other fudge brownie recipe, however, this one is a thicker cut brownie…. and still fudgy!
The Perfect Brownie
1/2 cup butter
4 oz unsweetened chocolate
1/4 cup coconut oil
3/4 cup honey
2 eggs
2 tablespoons cocoa powder
2 tablespoons coconut flour, packed
1/4 cup almond flour, packed
1/2 teaspoon baking soda
1/2 teaspoon salt
1/2 cup chocolate chips (opt)
3/4 cup chopped pecans (opt)
Preheat oven to 325.  Grease a 8×8 glass baking dish.
Melt together the butter, chocolate and coconut oil.
Whisk in the honey.  Allow mixture to cool down before adding your eggs.
Stir in your eggs.
Add your flours, baking soda and salt.  Whisk well to combine.
Fold in your chocolate chips/nuts.
Spread mixture evenly into greased baking dish.
Bake for 25-35 minutes.  (25 min for plain brownies, and up to 35 min for nut brownies)
Allow to cool slightly before serving.  They cut best when cold.
for super thick cut brownies use 8×8
thick brownies 9×9
regular brownies 9×13
---
---