Gluten Free Cranberry Walnut Muffins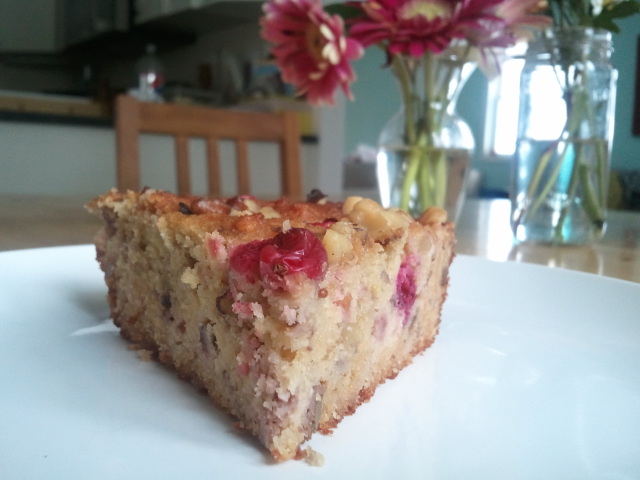 Did anyone else stock up on cranberries while they were in season this year?  Well I've got a couple bags in the freezer that are calling my name!  This week I was craving those intensely flavored, tart berries.  They are a great source of vitamins A and C, antioxidants, flavonoids, and of course fiber.
This week I have been experimenting more with coconut oil and replaced my usual butter with it.  I was afraid the coconut flavor would take over, but boy was I wrong.  It was moist, delicious and hard to stop eating!
Cranberry Walnut Muffins
1/2 cup coconut oil, warmed enough to be liquified
1/2  cup honey
5 eggs, at room temperature
1/3 cup coconut flour, firmly packed  (+2 tablespoons reserve)
1/2 almond flour, firmly packed
1/2 teaspoon baking soda
1/2 teaspoon salt
1 cup cranberries, frozen
1/2 cup chopped walnuts
Preheat oven to 325.
Whisk together coconut oil, honey and eggs.
Add the 1/3 cup coconut flour, almond flour, baking soda and salt.  Mix well to combine.
In a food processor with the blade attachment, pulse frozen cranberries until roughly chopped.
In a small bowl, toss chopped cranberries and walnuts in the reserved 2 tablespoons of coconut flour.
Fold cranberry mixture into batter.  Do not over mix or batter will turn pink :)
Scoop into muffin tins and bake.
15-20 minutes for mini muffins
25-30 minutes for regular muffins
35-40 minutes for pie plate
45-55 minutes for mini loaf pans, lower oven temperature to 300.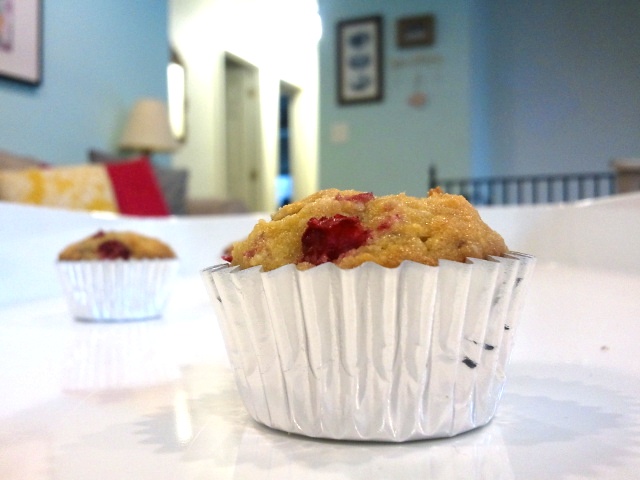 ---
---