Gooey Pumpkin Pie Cake with Coconut Whipped Cream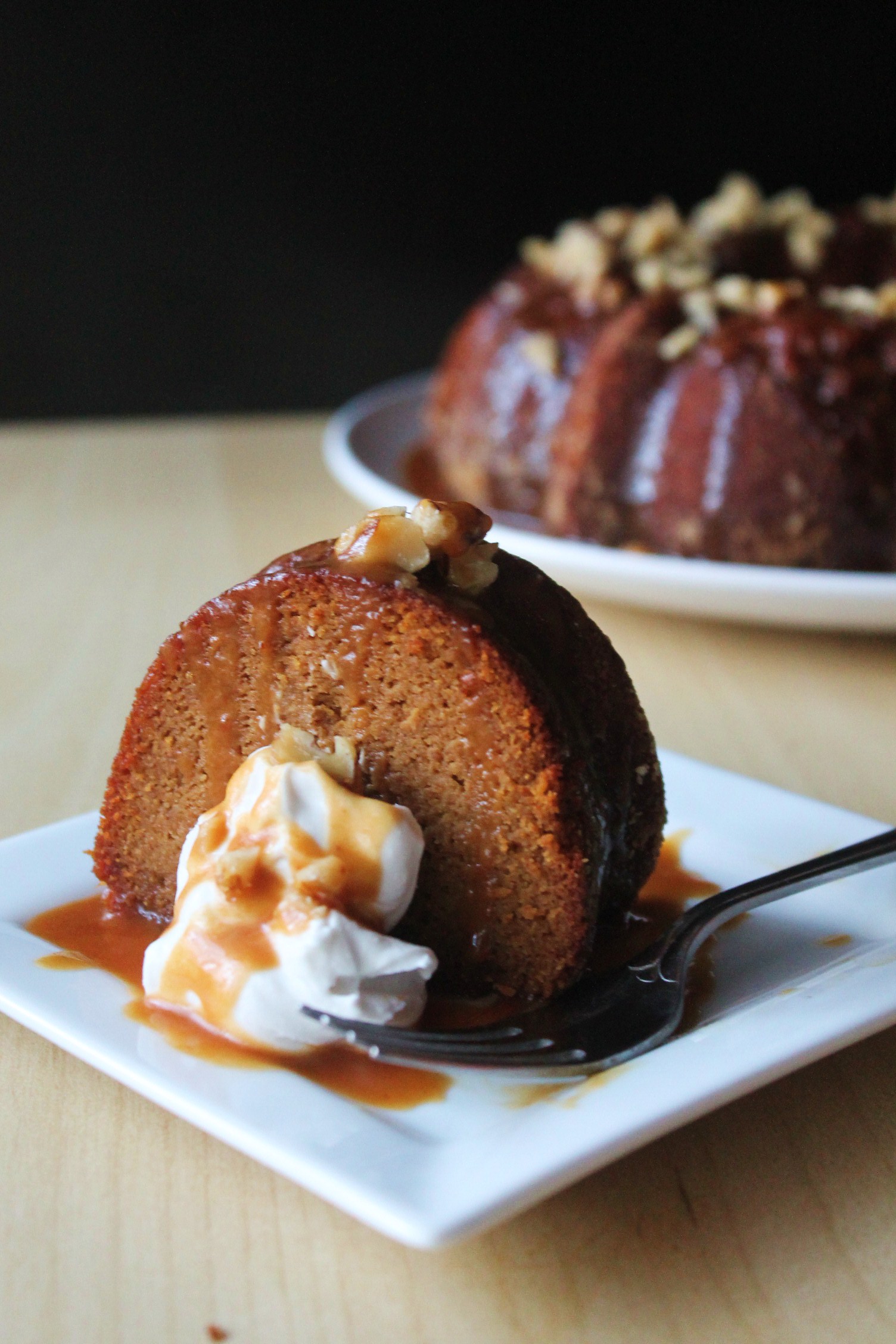 This cake is a cross between pumpkin pie and pumpkin cake.  It's decadently moist texture places it right up there with pumpkin pie.  A great alternative for a no fuss recipe, not having to worry about making a pie crust. All the great flavor of a pie, in a cake.  Top it with some whipped cream, and caramel sauce and we have a winner!
Gluten Free Gooey Pumpkin Pie Cake
1 cup honey

1 3/4 cups fresh pumpkin puree, or 1 15oz can
2 sticks of butter, room temperature
4 eggs, room temperature
1/2 cup coconut flour, firmly packed
1 cup almond flour, firmly packed
1/2 teaspoon salt
1 tablespoon cinnamon
1/2 teaspoon ginger
1/4 teaspoon nutmeg
1 teaspoon baking soda
Preheat oven to 325.
Cream butter with paddle attachment using mixer.
Add honey and mix.
Add eggs, one at a time. Scraping sides of bowl occasionally.
Beat in pumpkin puree.
In separate bowl, whisk together dry ingredients.
Add dry ingredients, mix until combined.
Pour into a well greased bundt cake pan, 2 9inch pie plates, or 9×13 baking dish.
Bake at 325 for 45 min-1 hr, or until tests clean with toothpick.
Serve room temperature or cold.  ( I like personally like to eat pumpkin pie cold, so I also eat this cake cold, just a preference)
* here are a few notes about this recipe.  If you do not have a mixer, use a blender.  Blend wet ingredients first until nice and fluffy, then add dry. Blend until smooth.
Also, I have noticed that it does have a tendency to stick a little bit to the cake pan, specifically a bundt cake pan with a lot of grooves. I greased and dusted with almond flour first.  Allow the cake to cool down for about 30 minutes before attempting to remove, using a small spatula or knife to gently release from the sides of the pan first.  If it sticks a little bit, use some caramel and nuts to hide any imperfections.  Or if that seems too risky, bake in the pie plates or another pan and just serve right in the dish.   If you find that the cake is getting too dark during baking, turn the oven down to 300.  I'm just trying to prepare you for any issues you may run into.
But trust me when I say, it is worth it.
It's absolutely delicious.  I promise.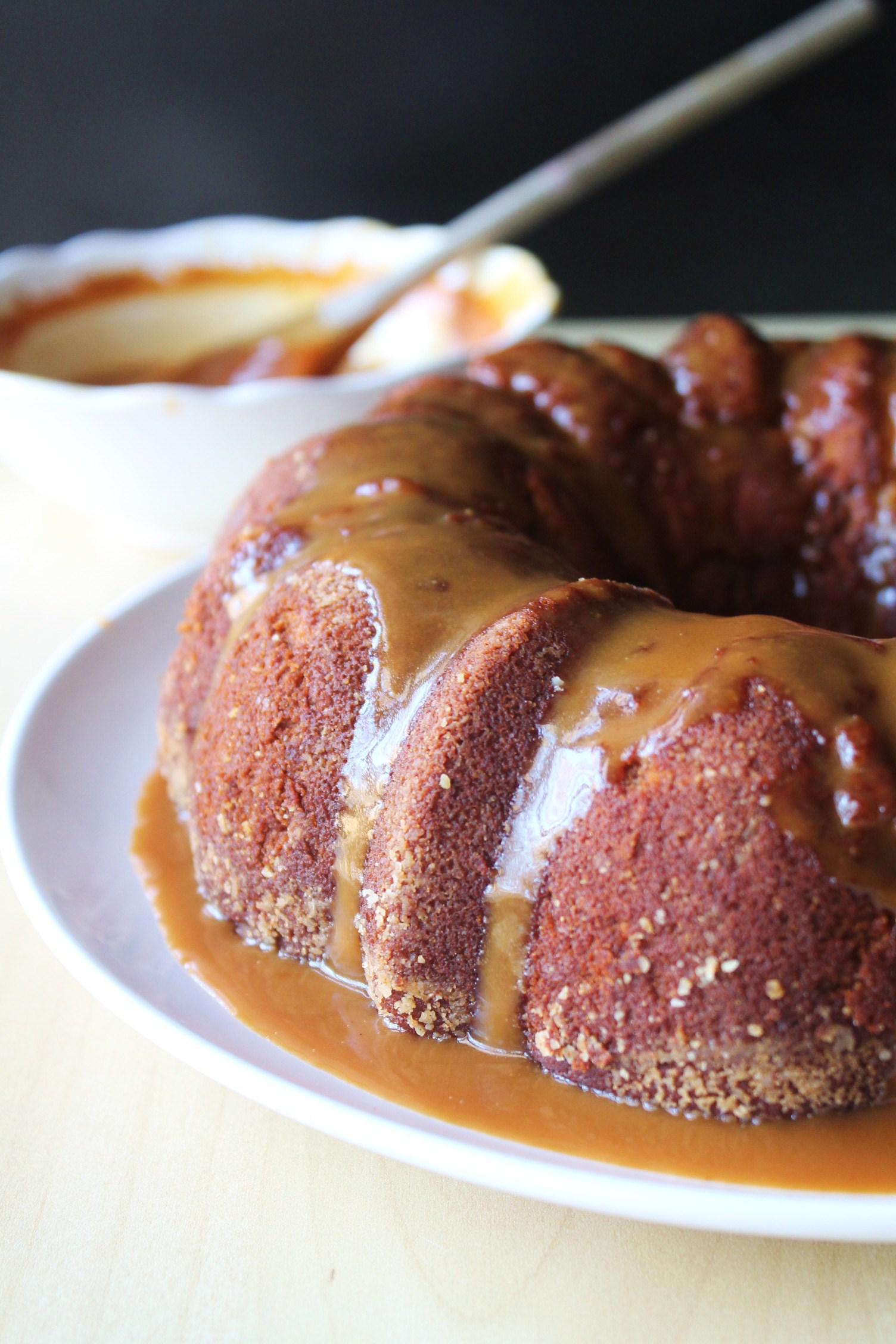 You can see my imperfections in the above picture.  It's ok, as long as it tastes good, right??
I like to serve my pumpkin cake or pumpkin pie, with Coconut Whipped Cream and Coconut Caramel Sauce. It is fluffy, dairy free, and so simple to make!  All you need is a can of full fat coconut milk, I always use Thai Kitchen for this specific recipe.  Get a few cans now, and store in the fridge, allowing the coconut fat and milk to separate.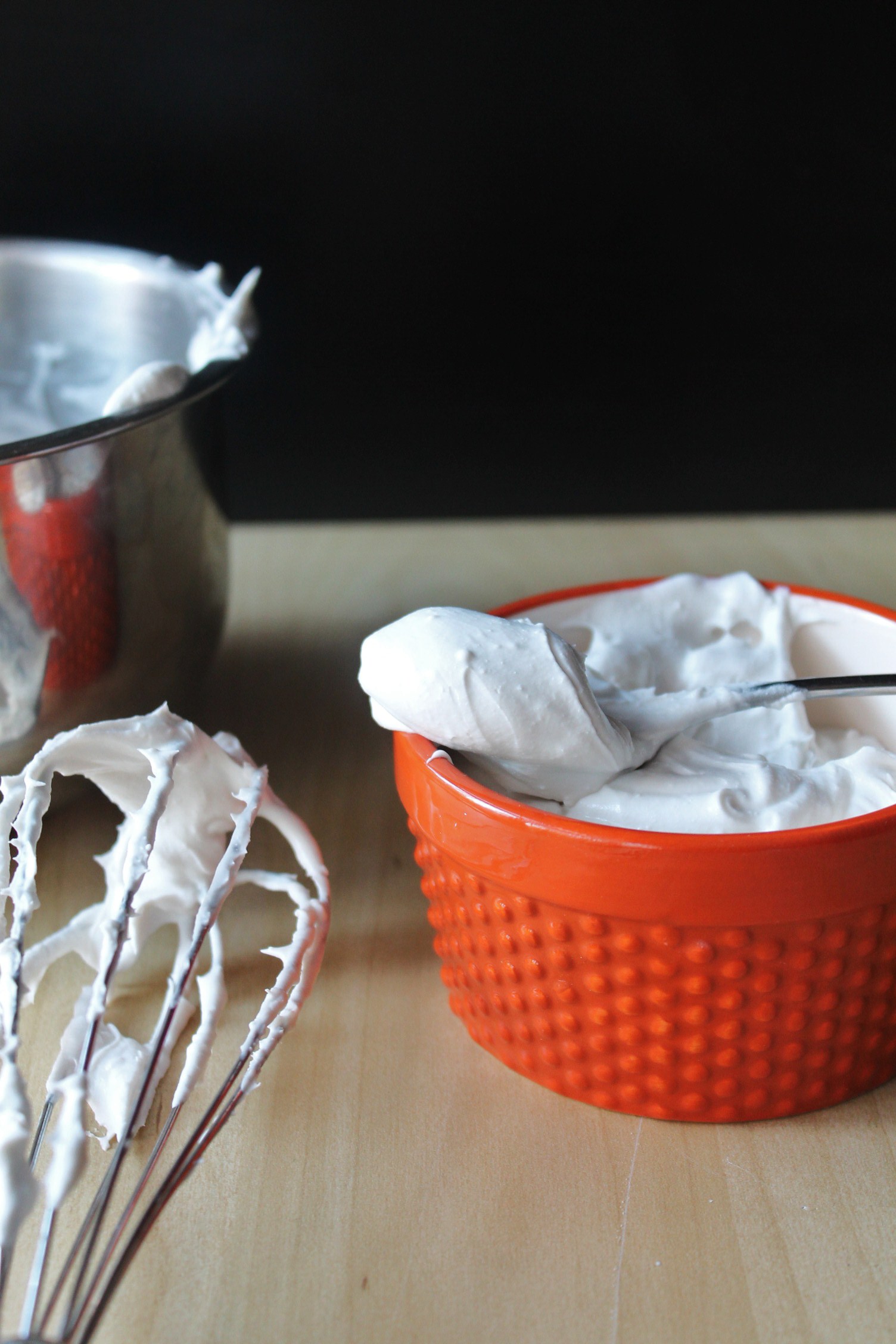 Coconut Whipped Cream
1 can full fat coconut milk,

refrigerated

at least a few days

1 tablespoon honey (or other sweetener)

1 teaspoon vanilla extract (the good stuff)
Open can of coconut milk, pour out coconut water.  Save for another use.
Scoop out coconut cream into a bowl.
Whisk in honey and vanilla, until smooth.  (I do it by hand, but feel free to use a mixer to get it extra fluffy)
Store in fridge until you are ready to serve.
Yields approximately 1 cup of whipped cream.  Double or even triple recipe if serving a larger group.
Here are a few of my other favorite desserts for Thanksgiving!
---
---