Green Bean Casserole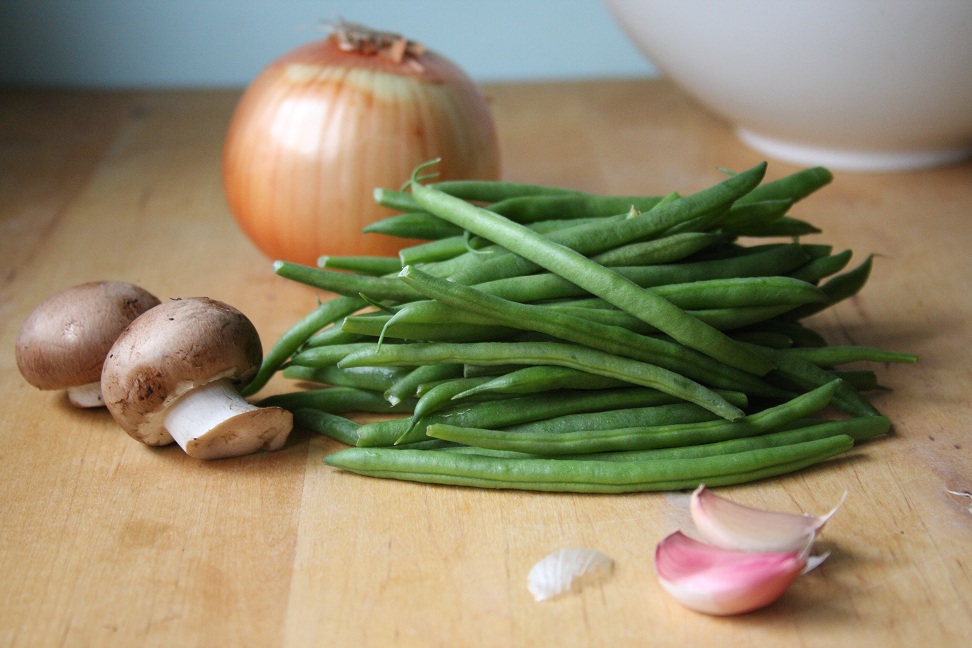 This is not your grandma's green bean casserole…  fresh haricot verts, baby portobello mushrooms, crispy shallots, and a creamy parmesan sauce come together to make the most flavorful and delicious dish.
Green Bean Casserole
1 tablespoon olive oil
1 onion, sliced
2 tablespoons butter
10 oz baby portobello mushrooms, sliced
1/2 teaspoon salt
dash of nutmeg
3 garlic cloves, chopped
1/2 cup broth
3/4 cup greek yogurt
1/2 cup parmesan cheese, grated
1 lb haricot verts, halved and lightly steamed
crispy topping
3 oz shallots, thinly sliced
1/3 cup almond flour or finely chopped almonds
1/4 teaspoon salt
1/2 cup finely grated parmesan cheese
Preheat oven to 375.
Heat a large skillet with olive oil.  Add onions and saute until translucent.  About 3-4 minutes.
Add butter and mushrooms.  Cook until softened, about 4 minutes.
Season with salt and nutmeg.  Add garlic.  Cook another minute until garlic is fragrant.
Add broth, scraping up any bits on the pan.  Let some of the broth cook out for about 2 minutes.
Stir in greek yogurt and parmesan cheese.  Until smooth.  Remove from heat.
Fold in steamed green beans.  Spread mixture into a 2 quart dish.  Set aside and prepare topping.
Combine topping ingredients, evenly coating shallots with cheese mixture.
Sprinkle topping onto casserole and bake for 25-30 minutes until golden and bubbly.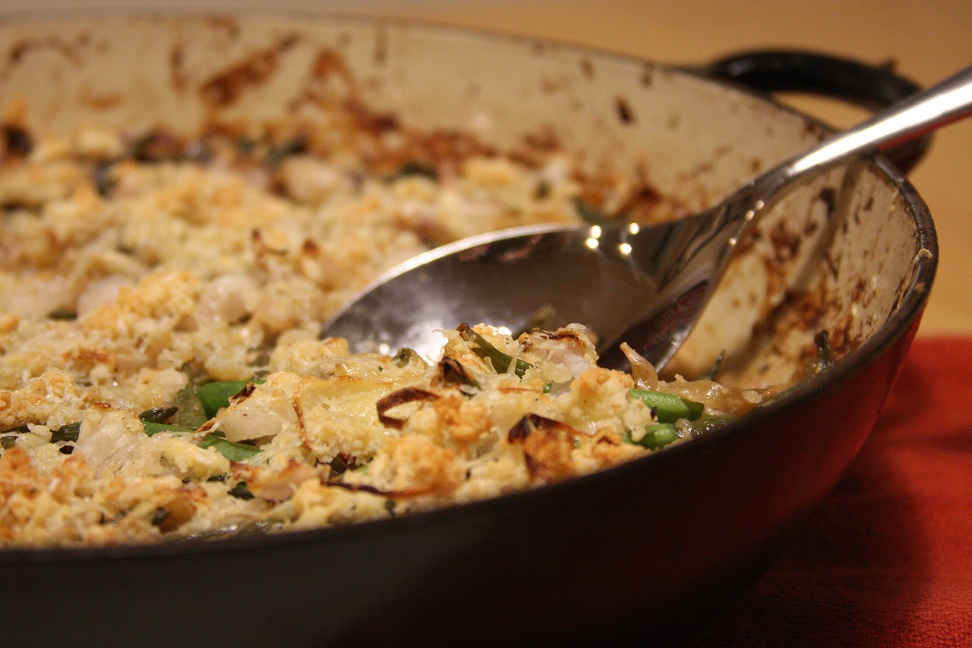 *this casserole will serve up to 8 guests.  double the recipe if feeding a crowd!
Don't forget about dessert!  Check out my Chocolate Brownie Icecream Cake and Maple Pecan Pie!
---
---