Homemade Granola Bars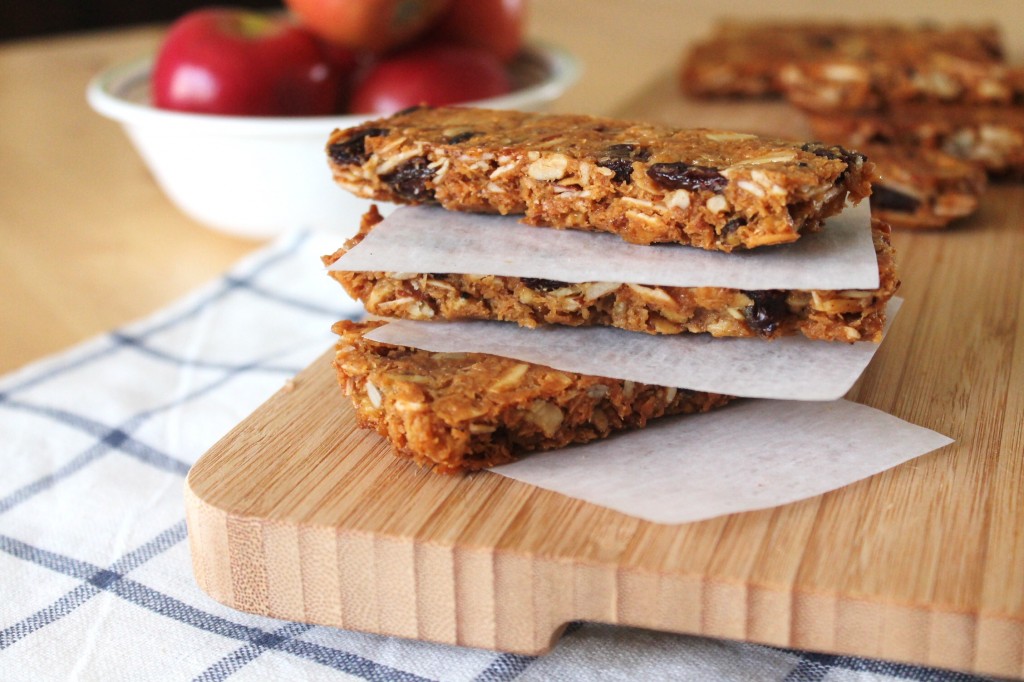 Granola bars are one of my favorite snacks and make a quick breakfast. This recipe is missing the usual main ingredient, oats.  Although some oats are gluten free, many are not.  So this eliminates any risk of consuming gluten and is also Paleo friendly.
I have made these several different ways, swapping ingredients for variety.  The bars pictured are my cinnamon raisin version, my favorite.  My kids are a big fan of peanut butter chocolate chip, figures :)
My secret to these bars, is actually the biscotti method – twice baked.  It is very essential in this recipe to follow my instructions or they will not hold together.  You MUST bake them twice.
Homemade Granola Bars
1/2 cup honey
1/4 cup butter or coconut oil
1/4 cup almond butter (or any nut butter)
1 teaspoon vanilla
1 teaspoon cinnamon
dash of kosher salt
1 cup unsweetened shredded coconut
1 cup sliced almonds
1 cup chopped walnuts or pecans
1/2 cup raisins (or chocolate chips)
Preheat oven to 300.  Grease a 9×13 dish and line with parchment paper, then grease parchment.
In a large pot on low heat, melt together honey, butter or oil and nut butter.  Stir until smooth.  Remove from heat, stir in vanilla and cinnamon.
Add all dry ingredients.  Stir until combined.  Pour into prepared dish.  Press down, and flatten mixture with spatula.  Try to spread into an even layer.
Bake for 25-30 minutes at 300 degrees, until golden in color.
Remove from oven and let sit until almost cool.
Place on cutting board and cut down the center lengthwise.  And cut rectangles, about 18 bars total.  They will seem somewhat flimsy, so be careful.
Gently place bars onto a lined sheet tray and bake again for another 7-10 minutes.  This will firm them up and make the bars nice and crispy.
Store in an airtight container, up to 1 week.  These also freeze well for an extended period of time.
* for peanut butter chocolate chip bars – use peanut butter in place of almond butter, replace raisins with chocolate chips, omit cinnamon and vanilla.
*for thick and chewy granola bars, double the recipe and still bake in a 9×13 dish.  You will need to add baking time and bake again after cutting.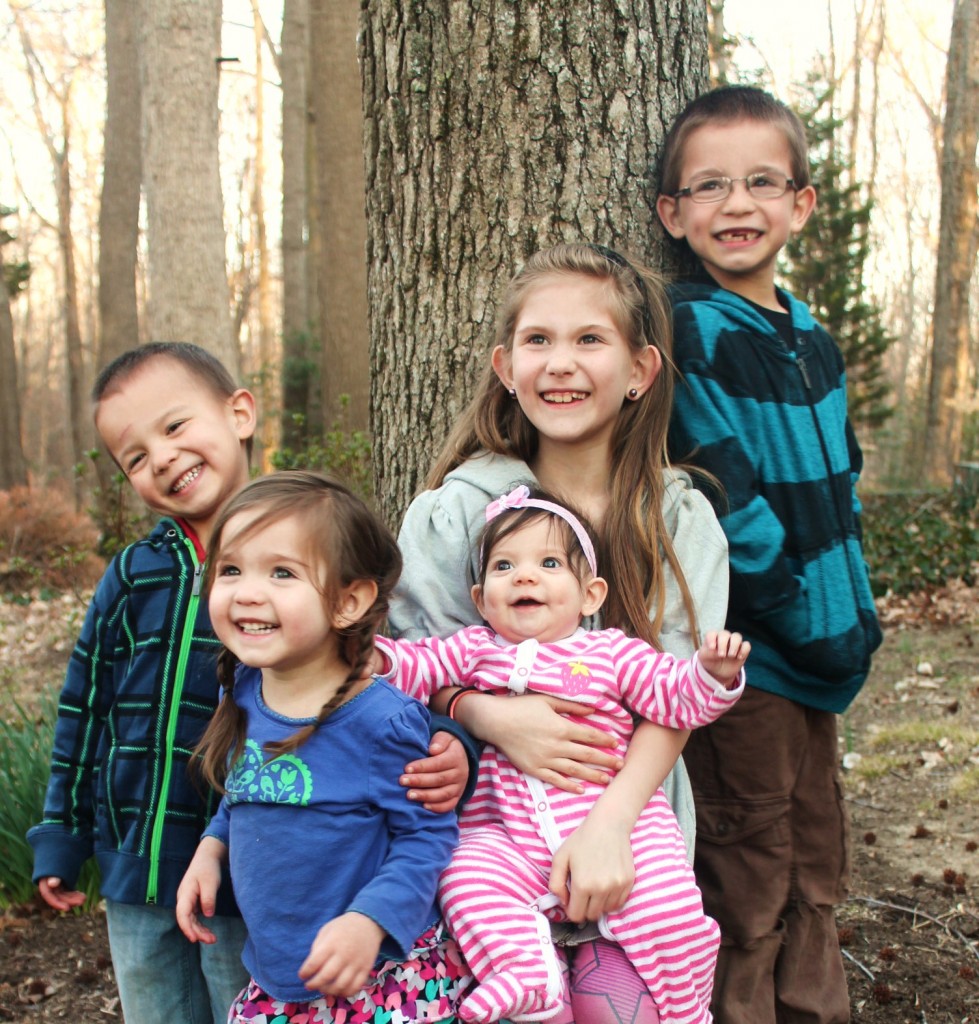 I hope you all enjoy the rest of your weekend!  Here is an updated photo of my babies :)  We are dedicating them tomorrow at church and I needed take a picture with all of them!  It's tough getting 5 kids to stop moving and smile simultaneously.  This was the best shot.
~Michelle
---
---