No Bake Strawberry Cheesecake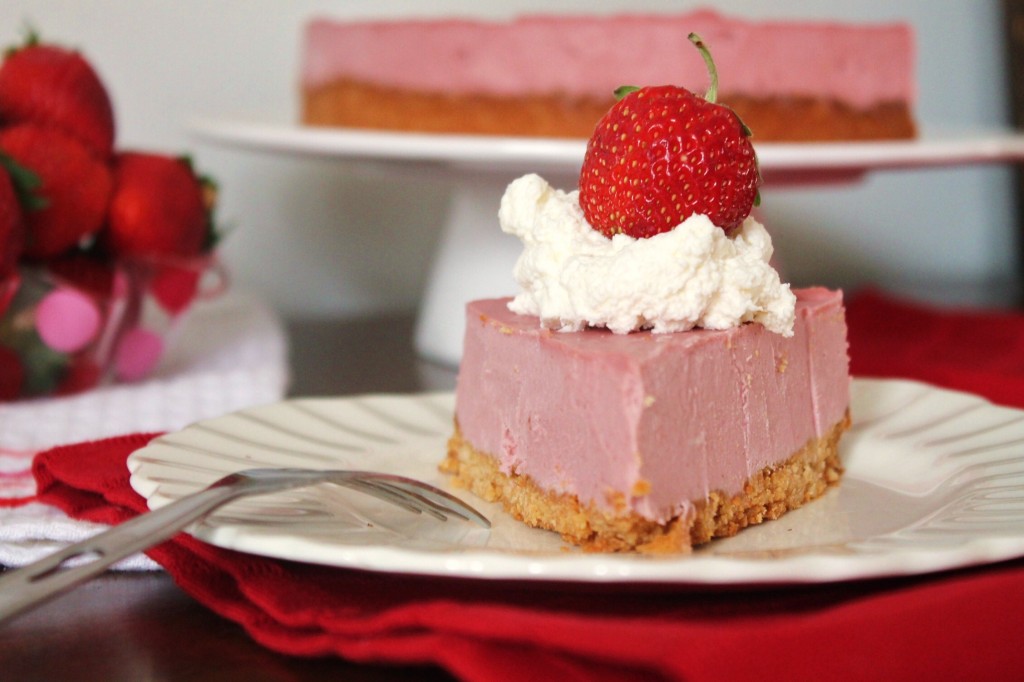 *photo taken of frozen cheesecake
I have been making this dairy free treat for a while now, but usually it all gets gobbled up before I can snap a photo!  So, here it is – finally :)
A gluten free, dairy free, grain free cheesecake.  My best friend (who is not gluten or dairy free)  described it as a "yummy frozen strawberry yogurt".  When you serve it from a frozen state is more like icecream, and when served chilled, it becomes more like a fluffy mousse!  Either way, it's fabulous and sweet, creamy goodness.
No Bake Strawberry Cheesecake
1 Easy "Graham Cracker" Crust, fully baked and chilled
2 cups raw cashews, soaked in water for 4-6 hrs
3/4 cup honey
3/4 cup coconut oil
juice of 1 lemon, about 1/4 cup
1 lb fresh or frozen strawberries (thawed and drained)
2 teaspoons vanilla extract
Combine all ingredients in a high powered blender (I use a Vitamix) or food processor.  Blend until light and fluffy.
Pour into baked crust.  Freeze at least 2-4 hrs, until set.
Serve frozen or chilled (depending on desired consistency, I suggest trying it both ways)  Add a dollop of coconut whipped cream and fresh strawberries.
*A few notes on the recipe*
For a summer variation – I used the zest of the lemon as well, and it made a nice, bright flavored "Strawberry-Lemonade" cheesecake.

As you can see in the photos, I used a spring form pan, but a standard 9 inch pie plate will work just fine!

Also I can not guarantee it will look exactly the same, as different food processors and blenders will vary the end results.  But either way, flavors will still be the same!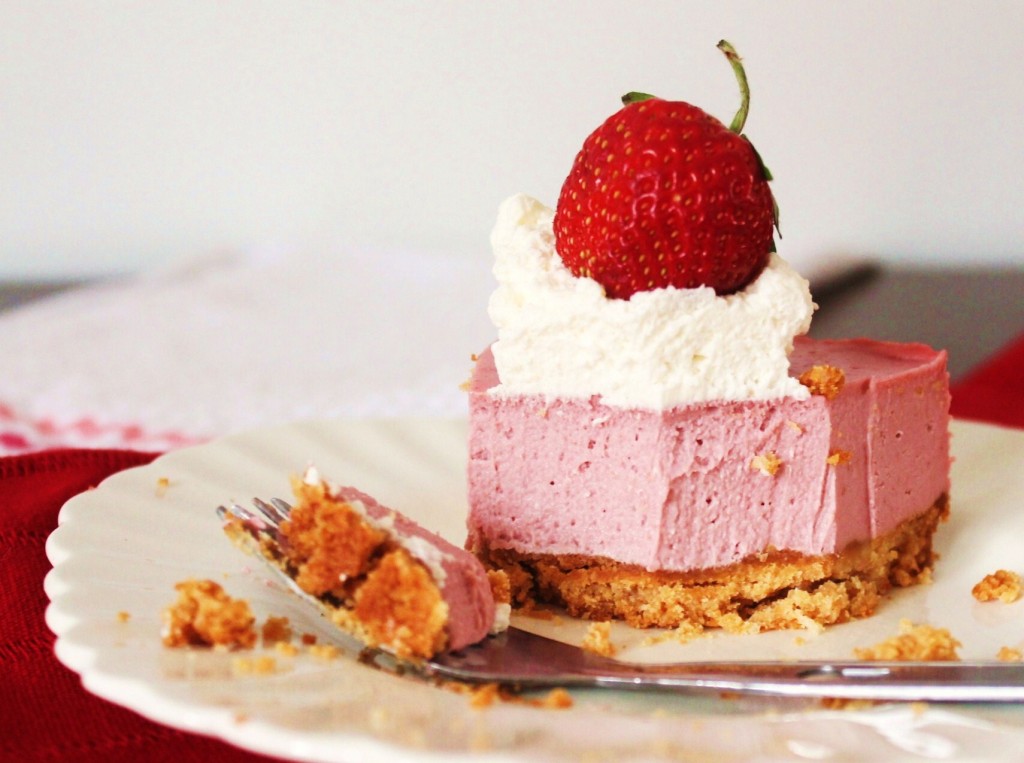 *photo taken after cheesecake was thawed, you can see the fluffy mousse-like texture.
IF, you have any leftovers, simply cut into slices and keep in the freezer.  Then when you are in need of a quick dessert, just pull out one of your cheesecake slices! If stored properly this dessert can last in the freezer a few months!
This dessert will also make a lovely and festive treat for your Valentine.  Do you go out on Valentine's Day?  We opt to stay in, away from the crowds.  My husband cooks for me, and we usually wait until the kids are down (early bedtime of 7), and we enjoy a nice quiet evening in.
~Michelle
---
---