Gluten Free Banana Pancakes
These are great to make with bananas that are a bit past their prime.  Their natural sweetness enables you to skip the sweetener when making this batter.  I like to serve these fluffy pancakes with cranberry sauce, toasted pecans and a drizzle of honey.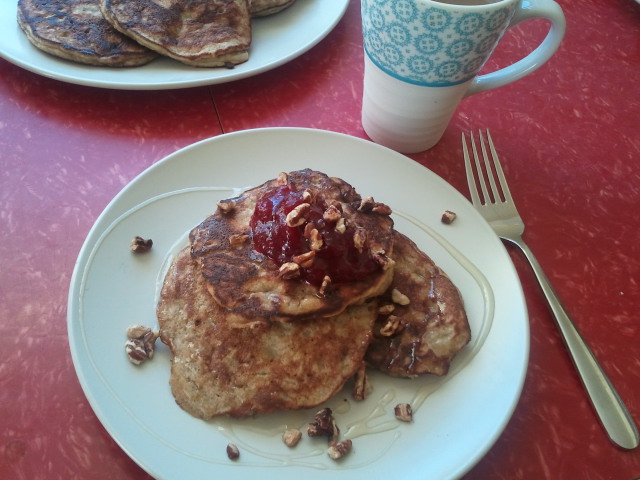 Gluten Free Banana Pancakes
3 overripe bananas, mashed
4 eggs
1/2 stick butter, melted
1/2 cup water
1/2 cup almond flour, packed
1/3 cup coconut flour, packed
1/4 teaspoon baking soda
dash of cinnamon
dash of salt
Mash bananas with fork, mix in eggs, butter and water.
Whisk in flours, baking soda, cinnamon and salt.
Heat skillet, grease with butter or preferred oil.
Drop by scoopful and spread slightly with back of spoon.
Cook on low-medium heat.  The natural sugars of the banana make it brown quickly.
Serve while warm.
---
---