Gluten Free Fried Chicken
I will admit there is no real gf substitute for Popeye's fried chicken, but this recipe has met my needs for crispy fried goodness.  There really is nothing healthy about this except for the nutrients you get from the almond flour, coconut flour and the chicken itself. We try eat "healthier" in our household, but sometimes you just need fried food!! I like to eat this chicken with a fresh salad and some butternut squash "fries" .  It makes me feel a little less guilty about eating fried food with double the amount of vegetables on my plate.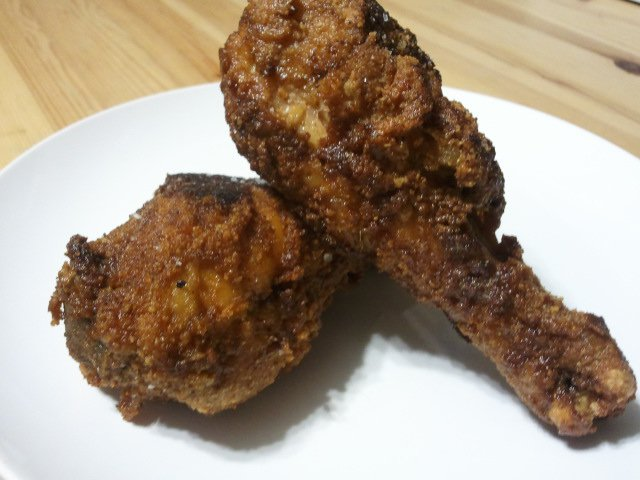 Gluten Free Fried Chicken
2 eggs
salt and pepper
1 tablespoon water or hot sauce (optional for spicy chicken)
Dredge:
1 cup almond flour, packed
1/4 cup coconut flour, packed
1/2 teaspoon garlic powder
2 teaspoons salt
1/2 teaspoon pepper
1/2 teaspoon paprika
1/2 teaspoon cayenne (optional for spicy chicken)
2 lbs chicken, bone-in (legs, thighs, wings, etc)
Coat chicken with seasoned eggwash.
Toss chicken in dredging mixture.  Set coated chicken aside for 30 minutes.
Heat 2 inches of oil to 350 initially, and keep it at 315 while frying.  Turning chicken once while cooking.
Cook chicken to 160, check with a meat thermometor for doneness.  Juices will run clear.
Rest meat for a few minutes, it will be very hot.  Eat up!
---
---