gluten free red pepper mayonnaise
Ever get tired of your typical condiments?  Well here is a jazzed up mayo that will make any burger or veggie platter special. Make ahead of time to ensure the flavors are fully infused into the dip.
gf red pepper mayo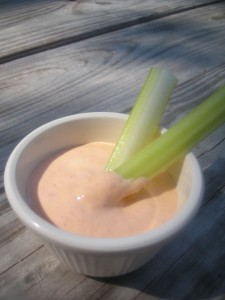 1 cup mayonnaise
1 2oz jar of pimentos, drained
1/4 teaspoon paprika
1 garlic clove
Blend all ingredients in a food processor.
Store in airtight container in fridge.
*for a healthier version, use half mayo and half greek style yogurt.
---
---