Pork Chops with Sauteed Apples and Leeks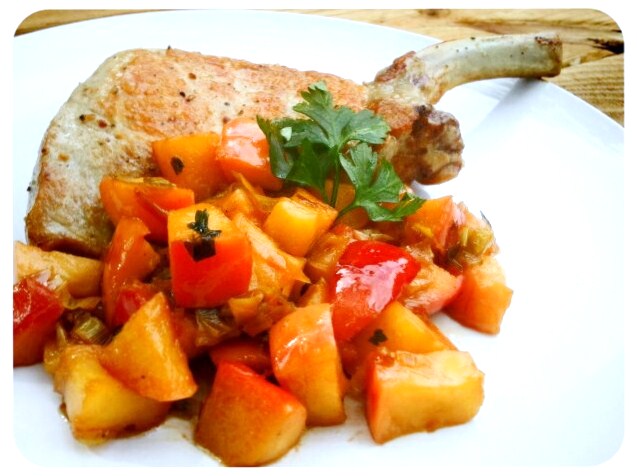 I'm pretty sure pork and apples are just one of the best fall flavor combinations out there.  I love a good bone-in, super juicy pork chop, cooked simply seasoned with salt and pepper.  But the best part is the rustic apples side dish.  Very easy to prepare, but will surprise your palette.  Just be sure to tell whoever you are serving that they are not potatoes!  My husband reached for an apple out of the pan and was very confused….  funny story.
During the ten minutes it takes to cook the pork chops, I prep the apples and leeks.  I also like that this is another one pot dish.  Less cleanup, and more time to enjoy the family!
Pork Chops with Sauteed Apples and Leeks
4 bone in pork chops, season with salt and pepper
2 tablespoons oil
6 apples, cored and chopped (I prefer Gala)
2 leeks, cleaned, trimmed and thinly sliced
1 cup apple cider
1 sprig of thyme
1 tablespoon apple cider vinegar
2-4 tablespoons butter
sea salt and pepper
Heat a large skillet with a little bit of oil.  Pan sear your pork chops for about 5 minutes on each side, creating a nice caramelized crust on each side.  Remove cooked pork chops onto a serving dish and allow to rest, loosely covered.
In the same skillet, drop in your apples and place the leeks on top.  Let them cook for 5-7 minutes, stirring minimally.
Once the apples start to get good color and slightly tender, stir in your apple cider and thyme.  Allowing most of the liquid to cook off.
Add the vinegar and remove from the heat.
Stir in the butter, depending on how creamy you would like, the specific amount is up to you.
Voila!  Dinner in 15 minutes :)
---
---