Where have I been lately?
So I have been meaning to write this post for awhile.  These past 2 months have been nothing short of chaotic, stressful and crazy.  I would like to be able to say that I've been happy and healthy.  But unfortunately, it has been a very difficult time for me and my family.  Like any autoimmune disease, there is only so much one can do to control it.  For me, Crohn's disease has become my worst enemy.  Believe me, I'll be the first to admit that my stubbornness has caused more harm than good. 
Back in May, my husband and I did some travelling and between the anxiety of leaving my kids and unsure of how "kosher" my meals were going to be, I started to become symptomatic even before our trip.  I was determined to get the disease under control by managing my stress and being extra vigilant about what I was eating.  However, things progressed quickly and I was admitted to the hospital the first week of June.  The disease had spiraled out of control quickly and I was in a great deal of pain, weak and unable to care for my own kids.  It took an entire week of IV fluids, antibiotics, and steroids to stabilize me.  I had lost nearly 15 lbs.   I felt very defeated and that all my efforts had gone down the drain.  During my hospital stay, I celebrated my 7th wedding anniversary and my 27th birthday in a tiny room without a window.  Talk about depressing! 
After a week, I was discharged.  Once home, I started to return back to my daily routine, with alot of help from family and good friends.  The toughest part in recovery, is getting proper rest.  The steroids give me major insomnia and make me the moodiest person ever.  If you have ever been on them, then you know what I am talking about….  So I was doing well for a few weeks, and then things started to flare up, again.  My GI ordered an emergency CT scan to make sure things were ok.  So I went into the night time care center, drank the prep and got scanned.  Well, the tech failed to tell me that he mixed my prep with ginger ale!  My body completely freaked out and needless to say, sent my overboard.  (I haven't drank soda or had sugar in the past 2 years!)Within two days, I ended up back in the hospital.  To make matters worse, there were errors made, and my CT scan was un-readable. 
Round two at the hospital, just 6 weeks after my last stay.  I felt completely and utterly depressed.  Why can't I just get this thing under control!!!  However, this time I became more hopeful.  They switched up my medicine doses and after 4 days, I was ready to go home.  Alot of this disease is dealing with it mentally just as much physically.  Since being discharged 12 days ago, I have been determined to overcome this battle.  I figured out that it is a control issue for me.  And I can't control this disease.  So, I have given it up to God-  I have surrendered complete control to Him.  Whether He will completely heal and restore my body.  Or give me the strength to pull thru and manage my life with this disease.  Either way, by pressing into Him, I WILL get thru this.  I am not going to give up.
The Lord is good to those whose hope is in Him, to the one who seeks Him.    Lamentations 3:25
Cast all your anxiety on God because he cares for you.    I Peter 5:7
That week in the hospital was very eye opening and I came to the conclusion that medicine is not the root of all evil.  It saves lives… it had saved mine.  I struggle with my desire to stay natural and trusting in God for healing while at the same time appreciating the technology and advanced medicine of today's world.  I'm only 27, so the idea of being on medicine for the next 60 years is frightening.  It is my goal once back in complete remission, to work with my GI and taper back off of the medicine.  I still haven't changed a single thing about my diet and I plan to continue to eat a diet full of whole, real foods.  Becoming more knowledgeable about food and where it comes from has been one of the best things I could have done for my family.  I feel so much better about my children's health and their future.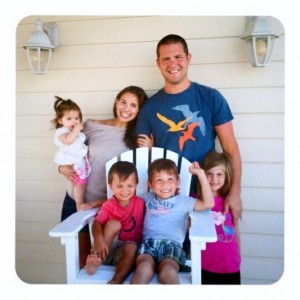 So this is why I haven't been posting lately.  This blog is still very important to me, but has been put on the backburner for a bit while I fully recover.  I love cooking and sharing my recipes!  It gives me great joy to be in the kitchen :)  I truly appreciate all of the comments and emails,  your feedback is very important to me and gives me the fuel to keep up with this blog.  My hope is that you will be encouraged if you are facing similar battles in your life.  Don't give up.  There is hope.
Michelle
ps. I was able to enjoy some of my summer vacation in between the two flare ups – a wonderful beach trip with my family and we also celebrated my daughter Juliette's first birthday!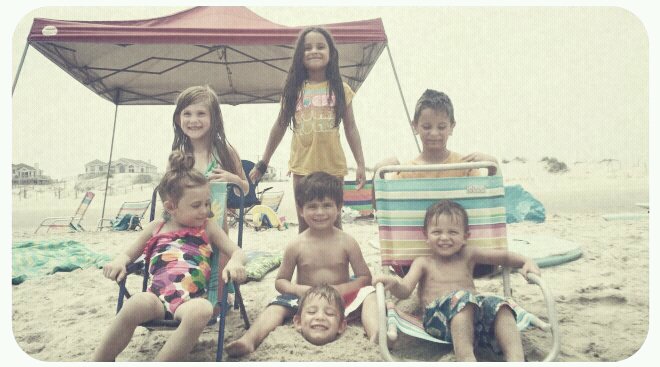 7 of the 9 grandkids at the beach!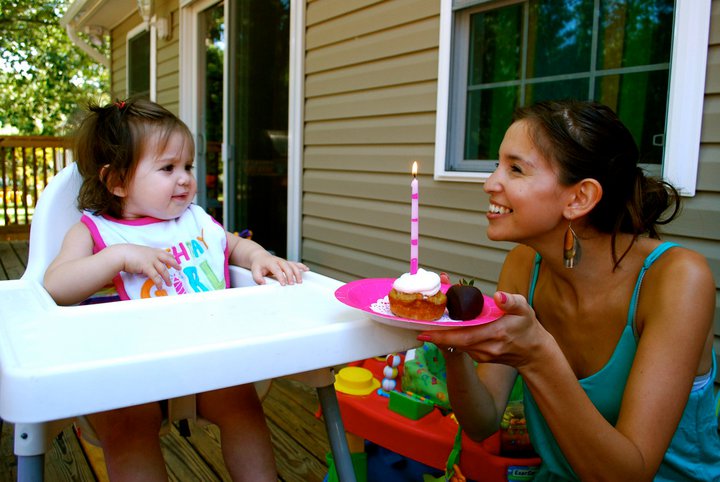 Juliette enjoying her first piece of cake and a chocolate covered strawberry!
Needless to say, she loves chocolate just as much as her mama :P
---
---